Misiiki///Tatsuya Nakatani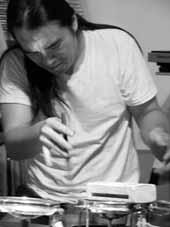 biegungen83 :
Misiiki
Dirk Marwedel (extended saxophone)
Michael Vorfeld (percussion, string instruments)
Burkhard Beins (percussion, objects)

"Gleichgesinnte mit verschiedenen Ansichten" könnte die Kopfzeile für dieses seit Frühjahr 2001 zusammen arbeitende Trio lauten, dessen Besetzung mit zwei Perkussionisten und Erweitertem Saxophon raritätsverdächtig ist.
Die verschiedenen Ansichten entstammen den zum Teil sehr
unterschiedlichen musikalisch-künstlerischen Hintergründen der drei Musiker: von Punk und Free Jazz reichen sie über elektronische und Neue Musik bis zu Musiktheater, Klanginstallation und Performance. In der Verarbeitung
dieser Vielfalt an Einflüssen greift wiederum die gleiche Gesinnung: statt sie unreflektiert zu collagieren, sucht das Trio eine tiefergehende Beziehung im differenzierten Ineinanderschachteln von klanglichen Nuancen, sucht Brüche und Reibungen um sie der bewussten Wahrnehmung und dem Spürsinn auszusetzen.
http://www.burkhardbeins.de/groups/misiiki.html

*~*
Tatsuya Nakatani (percussion)
Originally from Kobe and Osaka, Japan, Tatsuya Nakatani has resided in the USA since 1995. He had been based in New York City for four years, but now resides in Easton, PA. He has been recognized as a key player in New York's ever-burgeoning creative music scene. His music often defies category or genre and is broadly influenced by various cultures as well as improvised music, experimental music, jazz, free jazz and rock. An intense freedom combined with impeccable sensitivity and depth of thought characterizes his approach. He is widely recognized and sought out as a solo and ensemble performer. His elements of percussion are drum set, gong, cymbal, singing bowls, pieces of metal objects, various sticks and bows. In addition to live performances, he provides sound design for television and film, and collaborates regularly with dancers and visual artists. Nakatani has established an independent record label and recording studio "H&HPRODUCTION" from where he dispatches his music creations to the rest of the world. He has been a recipient of the New York, Bronx Art council individual artist grant.