Jemima Jemima * IanW + KonradW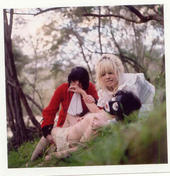 Jemima Jemima
Raquel Frances Solier aka BLOOD OATH flays skins

JAH GRILL provides her with a cat o six tails

LOFTY CLOUD shrieks inconsequential truths beyond the triangle
ALICE KLEISTER keeps a firm hand on
the bottom end
http://www.myspace.com/jemimajemima
A bell rang out across a valley. Once "Jemima". Twice "Jemima". The
third, together for the first time; "JemimaJemima". The bell that rang
shone bronze to the wind, and on these terms, JemimaJemima are a
"metal" band. The wind gently blew the grass of the valley, and in this
way, JemimaJemima are a "folk" group. YET, my friends The wind turned
the bells vibrations into silence, and in this way JemimaJemima are a
expression of nothing at all.
Jemima Jemima is BLOOD
OATH, LOFTY
CLOUD, ALICE KLEISTER and JAH
GRILL.

Australian colonial history is the location for discussions of language,
representation, and ultimate truths...man.

"His thirst for Quinine left him spiritually dry, yet finer men
have suffered the ravages of Malaria"

An absurd collection of tumbling off signature skin thumping, erratic
free consciousness guitar and shrieking operatic vocals serve to underline
the ambiguity of direct expressions, inequity of dominant historical
representations (see artwork, dude) or very possibly, nothing in particular.

"every time I eat, every time I drink, I disappear, and every time
I fly from my cage, I am disappointed"

Their debut Album "Redcoats" is dedicated to untold
histories; shearers, convicts, settlers, murderers, cannibals, opium
dealers, prostitutes, miners, immigrants, and above all, the Indigenous
nations of this usurped island.



"Oh my GOD, where did they go? I'm a sitting target, in a red coat..."


*


Ian Wadley and Konrad Wilde

are a work in progress, building a new sound
out of bits leftover from the rock guitar and drumkit scenario: loops
and lumps of melody and percussion. Konrad is also Kraftpost, and Ian
played in Australian groups Birdblobs and Minimum Chips, before
relocating to Berlin.