Baltschun+Baghdassarians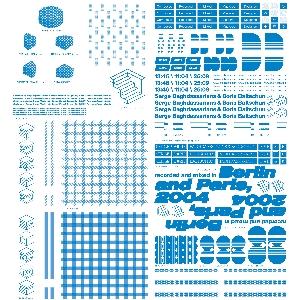 charhizma 032

composed by serge baghdassarians & boris baltschun

recorded & mixed in berlin and paris, 2004

mastered by gunnar brandt

designed by bank
---
boris baltschun :
*1974, hansestadt bremen
+ studied electronic music and composition at the koninklijk
conservatorium den haag, the netherlands with klarenz barlow, richard
barret, konrad boehmer and joel ryan.
+ since then activities in the diverse areas of contemporary music : as
an improviser, composer, soundinstallation artist and occasionally
organizer.
+ main focus on live electronics, especially sampling. + collaborations
with conny bauer, richard barrett, tony buck, günther christmann, jim
denley, michel doneda, axel dörner, dror feiler, wolfgang fuchs, robin
hayward, steve heather, kammerensemble neue musik berlin, fine
kwiatkowski, bernhard lang, michael moser, sergej newski, georg
nussbaumer, john oswald, natalia pschenitschnikowa, elliott sharp,
stevie wishart, steffi weismann, jack wright and others.
+ has been a member of the ensembles x-pol-batterie and berlin factory
and is currently a member of no furniture (with kai fagaschinski and
axel dörner), b-musik (with burkhard beins and serge baghdassarians), a
4tet (with s.baghdassarians, alessandro bosetti and michel doneda) and
mal d¿archive (with günther christmann and serge baghdassarians). most
important and long time duo collaboration with serge baghdassarians
(shevadnaze).
+ concerts and installations in amsterdam(sonic acts festival), berlin
(totalmusicmeeting/ultraschall/ galerie complice), bremen(rapid ear
movement/neues museum weserburg), bruxelles(les bains ::connective),
colmar(episodes imprevus festival), frankfurt (haus der deutschen
ensemble akademie), hannover (hohe ufer konzerte), los angeles
(linespaceline), new york(tonic), paris (instants chavires), rotterdam
(dodorama/worm), san francisco (sfalt festival), stuttgart(concepts of
doing festival) und szezecin (musica genera festival).
+ support from deutscher musikrat, goethe institut (bonn and san francisco) and initiative neue musik berlin.
+ radiobroadcasts on deutschlandfunk, deutschlandradioberlin, hessicher rundfunk and radiobremen.
+ record productions for edition explico (hannover), concepts of doing
(stuttgart), fmp (berlin), charhizma (wien/berlin), creative sources
(lisbon).

---
serge baghdassarians :
born 1972 in fürth, germany, of armenian descent. he studied classical
guitar at the hochschule für künste bremen. during his studies he
specialized in various forms of contemporary music - composed and
improvised. as a performer he toured in europe and the united states.
he participated in festivals like sonic acts festival, amsterdam, total
music meeting and ultraschall, berlin, san fancisco altternative
festival as well as "6.nachwuchsforum der gnm/ensemble modern",
frankfurt. recordings for fmp, edition explico, concepts of doing,
charizma, absinthrecords.
his work has also been documented in numerous radio broadcasts (radio
bremen, deutschlandradio, hessischer rundfunk, sender feies berlin and
deutschlandfunk). he has worked with for example dror feiler, bernhard
lang, helmut oehring, torsten müller, michael moser, tony buck,
dimitrios polisoidis, robert lepenik, günter christmann and conrad
bauer. he is the co-founder of the octet x-pol-batterie and one half of
a duo with boris baltschun. he lives in berlin since 1999.