almandino (it) ladyfestparty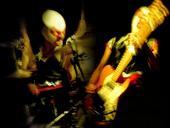 +++ LADYFEST SOLISPECIAL @ AUSLAND +++



LIVE:



The Shameless Kiss (Berlin)
www.myspace.com/theshamelesskiss



Almandino QuiteDeluxe (Bologna)
www.myspace.com/almandinoquitedeluxe


***SPECIAL LATE NIGHT SHOW:***


Lynn Breedlove (Tribe 8 / California)
www.tribe8.com
---


DJANES:


Brendito (Montreal)

Miniskirt (Ladyfest Olympia)

Sue Denim (Robots In Disguise)

---


KURZFILME:


+ Micronomic: Catrin Sonnabend/ 3:40min/Musik: Lali Puna/ 2005/ dvd

+ Just another rip off: Simone Bennett, Vera Stiphout / 1:20min/ vhs

+ My heart the rock star: Nikki Forrest, Annie Martin/ 2min/ Québec:

+ Blood on the decks: A group of individuals (Burnout Films)/ ca. 5min

+ Rock it: Jeannette Petri/ 2:40min/ dvd

+ Talk! : Katharina Ellerbrock/ 6min/ 2004/ OmeU/ dvd

+ Colour me beautiful: Claudia Sarkrany, Harriet Fleuriot/ ca. 4min/ dvd




---
"Almandino QuiteDeLuxe" (Noisy & Trashy Garageblues aus Bologna)
Band Members:
SHE breaks GUITARS 'n' HE smash DRUMS
Almandino
sind Italiens
liebste NoiseBluesGarageTrash Band. She an den Gitarren, He an den
Drums. "It's time to let Almandino take you on a rocking blues
venture down the female fucking sound." Aus krachigem Gitarren-Sound,
Drums und Female-Shouts wird energetischer Rock'n'roll zwischen Noise,
Pop und Blues-roots!
---
"
Lynn Breedlove
"
(Tribe 8 / San Francisco)
Lynn Breedlove is the lead singer for both infamous dyke-punk band Tribe 8 and SLAMB (Stop
Looking At My Boyfriend).
Lynn's first novel Godspeed was
released by St. Martin's Press in '02.
Fluffy has two mommies, Pookie has two daddies...
Contact Unka Lynnee for
pet sitting and dog walking in the San Francisco Bay Area.
From '02 to '04, Lynnee was the jerk of all trades at the Montclair Women's Cultural
Arts Club. She helped Boo Price organize the Old Skool/Nu Skool Project, pairing
older lesbian feminist artists with their younger dyke counterparts. She was
also the club's wedding site manager.


Her current projects include her latest One Freak Show, which will soon be available
in book, CD and DVD format. She's also working on the Godspeed
screenplay, as well as
a restrospective of her writing career.
---
+ NÄCHSTES LADYFEST-VORBEREITUNGSTREFFEN +

Dienstag, 21. Februar 2006, 20 Uhr

K9, Kinzigstraße 9, 10247 Berlin

U Samariterstraße