Dieb 13/N. Bussmann//R.Schrock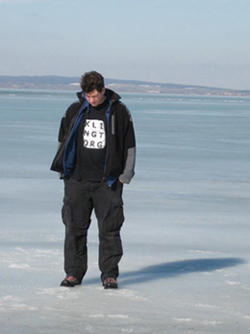 biegungen87:Dieb 13 (turntables)/Nicholas Bussmann (synthcomputer)
*//*
Roddy Schrock (sound sculptures) solo
+
trio with Roddy, Nathan Fuhr (voice) & Emilie Delugeau (video artist)
http://dieb13.klingt.orghttp://www.studiobeige.de/
Roddy Schrock is a sound artist
who digitally mines everyday sound for the profound and canvasses the glitzy,
rough edges of pop for its articulate immediacy. The thread which runs through
all of his work is focus on creation of sonic space in which seemingly
oppositional ideas, both musical and cultural, are forced to confront one
another, creating gentle friction, unifying spiky ideas in the form of sound
sculpture.
He is also an educator, teaching at NorCal DJMPA in San Francisco. During the
summer he teaches at STEIM, Amsterdam, and is the Digital Arts Coordinator for
the Community School for Arts in Silicon Valley. He writes regularly for New
Music Box and e/i Magazine.
http://www.fundamentallysound.org
[time of rendering].05.03.06.Ausland.Berlininstallation performance
Concept and Performance: Nathan Fuhr (voice), in collaboration with
Roddy Schrock (live sound design) and video artist Emilie Delugeau.
Text: Bill Viola
This
performance is an adaptation of an installation by Bill Viola titled
Slowly Turning Narrative (experienced in 1998 twice at the San
Francisco Museum of Modern Art and twice at the Art Institute of
Chicago), in which the energy is focused to create a more palpably
human, meditative, as well as subtly confrontational ritual experience
for the audience as a collective.It can't be done without you; come see why...