Kovorox Sound night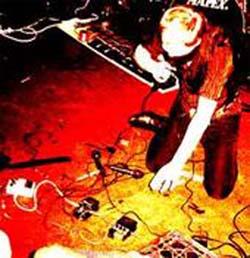 KYLIE MINOISE

One-man harsh noise attack aktion!!! Indecipherable blasphemies! Cuts!
Bruises! Smashed microphones!

Solo project from Glasgow by Opaque/Kovorox Sound founder Lea Cummings.
With his low-end guitar drone/improv/noise unit Opaque, Lea has toured
extensively around the UK and Europe. He has performed alongside Sunn
0))), Goem, Boris, Hototogisu, Blood Stereo, Birds of Delay and many
more. His music has been released by labels such as: Fat Cat, Nidnod,
Monopolka, Dental and Celebrate PSI Phenomenon and praised by the likes
of Thurston Moore (Sonic Youth), Bruce Russell (Dead C), Campbell
Kneale (Birchville Cat Motel/Black Boned Angel), Dylan Nyoukis (Decaer
Pinga) Phil Todd (Ashtray Navigations) and Prurient. In the last 12
months, KYLIE MINOISE has toured the UK and Ireland, including the
INSTAL fringe festival and the NO-TREND NOISE FEST in London. He has
also released a volume of well received albums.

set duration: 10 mins.

NOMA

Drones, Tones and Mobile Phones.

Constantly evolving improvised music using guitar-amplified reclaimed
consumer electronics from legendary reclusive Scottish experimental musician
John Cromar. With a decade's worth of recording and infrequent yet
enthusiastically received performances under his belt (such as at this
year's INSTAL fringe festival), this will be the first venture into Europe
for NOMA.

set duration: 30 mins.

NACKT INSECTEN

Bloodshot wall of insect dirge.

Solo minimal drone project from Glasgow-based God of Nasty Insect Drone and
Opaque member Rory Sanachan. With releases on Kovorox Sound and Pjorn 72
and a UK tour culminating with a set at the NO-TREND NOISE FEST in London,
the past 12 months have been busy for this nasty little insect.

set duration: 20 mins.


TEMPLE OF STATIC CHRIST

Nauseating death-rattle dirge and heathen moans by the Kovorox 3-piece
supergroup previously known as Acid Is Groovy Kill The Pigs.

Releases on various labels including American Grizzly, Cokwizard Blasphemy,
Elephant Gun Tapes and Kovorox Sound. Recent shows have included a soon to
be released set from October's GLASGOW IMPLODES festival.

set duration: 30 mins.

http://www.kovoroxsound.com
+ special guest:
Evil Moisture
Evil Moisture is a project/identity of Andy Bolus, incorporating
music, art, neoist technology, re-fried dadaism and comics. Andy builds
legendary self-made noise machines and strange modified toys.
He has worked with Yamantaka Eye (Hanatarash, XoX, Boredoms),
Hironori Murakami (Vomit Lunchs), Erik Minkkinen (as
Intertecsupabrainbeatzroomboyz) Andrew Sharpley (as AA) and Noel
Akchoté (as Lenny Kravitz.co.uk), as well as manufacturing modified
toys for some of Luc Ferrari's recordings, and making headphone
equipment for "Le Placard" headphone festival.
+ + TOCHNIT ALEPH's playback confusion