The Lonesomes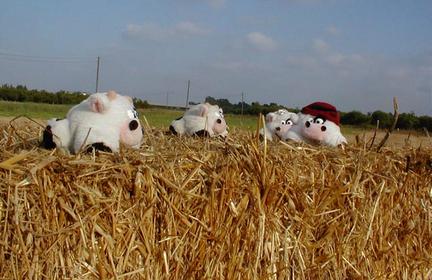 THE LONESOMES (ISR)
"The best all cow country band!"

First Show in Berlin!

Jeff Lonesome (Guitars and contrabass)

Cindy Snow (Vocals and fiddle)

Anne Moo (Synthesizers, organs and assorted effects)

Pierre Le Vache (Drums, rhythm programming and xylophone)

Adi Gelbart (Manager)
Somewhere in the countryside inside a small underequipped studio, four
cows are working constantly at exploring their weird version of lo-fi
electronic country music. They are known as The Loneomses. Well, either
that or they are actually the solo recording entity of Israeli born
musician Adi Gelbart, who claims he is just the cows' manager.
Though the Lonesomes' music originates from country, they manage to
cover a great range of styles and influences from loungy easy-listening
through lo-fi minimalism to extreme noise, resulting in a sound that is
both plain trashy and emotionally deep at the same time.
The live show features the band with Adi Gelbart on guitars, synths, homemade electronics and the occasional trumpet or violin.
(Adi Gelbart moved to Berlin a few months ago and performed shows of
his electronic material, but this is to be the first show of The
Lonesomes in Berlin)
website: http://www.gelbartmusic.com/lonesomes/
blog: http://www.thelonesomes.blogspot.com
+
TODOSCH aka Schwefelfee MC (banjo/voc)
spielt neue Weisen aus: "Die Mähne der Mehari"