assdroids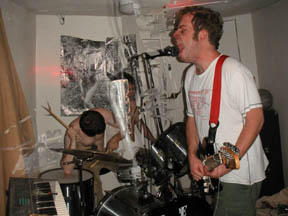 assdroids
NOT PLAYING LIVE !!!!"
RECORD RELEASE VERSCHOBEN AUF 24.6. IM AUSLAND !!!!
The Assdroids exist as Pisces Motherfucker on guitar/vox and Big Daddy Mugglestone on drums/vox. Together they burn the bridge between breakcore and ecstatic jazz, spilling the gap that divides the Boredoms from Merzbow. This first release demonstrates the power of bad computer intellect mixed with too much beer and lack of sex. Mix in some jarbled world music samples and Richard Pryor, and the result is something that DRAG Magazine hailed as: "Lightning Bolt teamed up with an army of computerized insects for an after-school beating of the Blood Bros." www.cockrockdisco.com
WHAT IS HAPPENING ???
zwei schallplättende artisten werden bekannte schwarze, (achtung!!) selbstgebraute scheiben mit assdroidialen tracks verwenden um "schallplattenbasierte tonkunst" zu betreiben.
die schallplatte ist ein medium das sich hervorragend für schallspeicherung eignet. ein analoges medium. direkt. rillen. tonarm.
(an dieser stelle erkennt die autorin gewaltige wissens- und erkenntnislücken : text wird nach lesen und denken fortgeführt...)
Assdrodial companions :
Jan Zimmermann (schallplatten, doepfer a100)
Ignaz Schick (schallplatten, "rotating objects")
DO NOT MISS.
dj : assdroids, elvira planiera, christoph