DANCE PERFORMANCE + VIDEO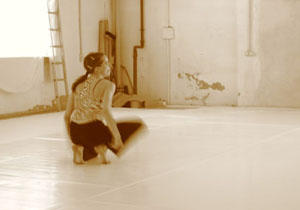 DANCE PERFORMANCE + VIDEO
works by Nancy Banfi, Olga Tzikouli, tanz imland by Inka Strümpel & a VIDEO work by Patricia Woltmann
mit tanz imland feiere ich das leben und den augenblick des schöpfens als tanz.
tanz
imland entsteht spontan und wird nicht mehr wiederkehren.
es
möchte daran erinnern, dass tanz keine zusätzlichen themen benötigt,
ausser
bewegung und bewegtsein an sich.
tanz:
inka strümpel
musik: finemusique
licht: michi rüter
inka
strümpel absolvierte ihre tanzausbildung 1995 am TUT (schule für
zeitgenössischen
tanz
und theater) hannover und erhielt 1999 das tanzdiplom am EDDC (european dance
development center) arnhem, holland.
seit
2003 lebt, unterrichtet und performt sie in berlin.
fine
heininger (finemusique) und michi rüter studieren an der kunsthochschule
weissensee berlin (KHB).
HOLDING ON 2
Dieses Projekt entstand
aus meiner Faszination für den simplen Akt des Händehaltens. Einfachen da zu
stehen und des anderen Hand zu halten. Die Hand, die heiß wird und zuschwitzen
beginnt. Trost und Unbehagen empfinden, den eigenen Gedanken nachgehen...
This project grew from my fascination towards
the simple act of holding hands.
Just standing out there holding on to each
others hand.
The hand getting hot and sweaty. Experiencing
comfort and uneasiness, listening to one's own thoughts…
A work in
progress
Dauer: ca. 30 min.
Mit: Patricia Woltmann, Nancy Banfi
Conzept: Nancy Banfi

+top
spin
(video)
von Patricia Woltmann

(un)heimliche
leichtigkeit

.. ein
dreiklang von bewegung, ton und bild zu einer arie von J.S. Bach
Patricia
Woltmann studierte zeitgenössischen Tanz/Medien und Choreographie am Laban
Centre, London (M.A. in Dance Studies). Patty hat als Tänzerin und
Choreographin an zahlreichen interdisziplinären Performance-Projekten in Europa
gearbeitet.