Pap@rapper-- Miss Hawaii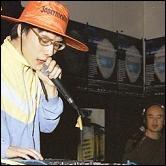 E-da from Pap@rapper can't be here. Miss Hawaii is
performing solo-> http://www.myspace.com/missyhawaii
+ Gunter Adler solo -> http://myspace.com/gunteradler


Pap@rappper is Miss Hawaii plus E-da.
Miss Hawaii is actually a Japanese male, the Hokkaido-born Teppei
Ozawa. Together with E-da, the ingenious ex-drummer of the Boredoms, he
conducts exercises in applied madness. With their live performances
they beat more or less everybody and everything: unleashed Exotica
madness, distinguished Japan-Noise
between New Wave, NoWave and Freerock! Miss Hawaii has committed
himself to brushing up-to-date pop music against the grain.His disco
and electronica infected lounge exotica is pretty much the most toxic
antidote that is available against the dullness of everyday life. There
will be not a dry eye in the house when Pap@rappper surfs across the
waves of most wicked pop reconstruction. Mind-expansion in cinemascope.

Miss Hawaii, originally based in japan, is part of the
19-t/adaadat-posse, with which he was coming over to hamburg three
years ago by invitation of my stora-buddies. 19-t did a legendary label
showcase for mfoc at the pudel club and miss hawaii decided to stay in
hamburg for a while. booty carrell introduced me to him in 2004 - at
that time hawaii started his manic shouting performances under the
alias mc cambodia. by doing many over-the-top gigs he became kind of a
resident mc at the pudel club while also playing in germany, the
netherlands, russia, austria, uk, france with artists like jamie lidell
and princess superstar.rumours go that he - whos got a passion for
impro, sun-ra, hardcore & hip hop - has been in the studio
recording vocals for a cover version of scooters "hyper hyper"(!!!),
which will be released on one of the next 12es of the pudel produkte
series.
about Gunter
Adler

i originate from the town of aachen and claim to be the second-most
famous musician from there. member of augsburger tafelconfect and also known
under my alter ego dated & graded, various releases on the labels
staubgold, mik.musik!, gagarin records. recently diving into a green broccoli
soup preparing netaudio activity, for instance in 2003 i created the net-label
plakatif.net. currently soldering toy instruments and mo-mo-modifying, circuit
bending.