Ashis Mahapatra/Eva Sjuve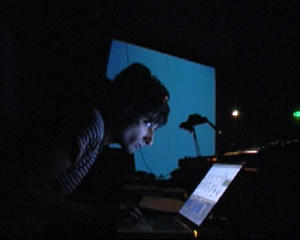 Ashis Mahapatra (guitar, computer)
+
Eva Sjuve (13 Volts and 1 Carrot)
+
DJ Ed Benndorf
Ashis
Mahapatra uses computers and guitars to create hypnotic walls of sound. His
live performances are "refreshing and playful, integrating computers into
guitar-based improvisations. He uses the computer to sample, generate and
process the guitar, subtly manipulating the ebb and flow of these layers, combining
oceanic serenity with the buzzing maelstrom of an unnatural disaster" (The
Village Voice.) Active in the New York City experimental music world, he
founded TRUE-FALSE in 2004, a label dedicated to the dissemination of
experimental music and intermedia. His debut release, "Orange Of" (July, 2006)
has been described by the Wire as "an impressive debut album with a wall of
sparkling guitar monochords- sugar-coated with laptop trickery- which will
inevitably be compared to My Bloody Valentine and Fennesz, channeling a
narcoleptic pink noise directly from the magenta nebula of Loveless. Mahapatra
proves himself to be a deft tunesmith, mingling wistfully nostalgic melodies
with pixellated fizz and irradiated tone-float." Ashis Mahapatra (born in New
York City) lives in Berlin and India.

Eva Sjuve is exploring the intersection of sound, performance and mobile
media. She is building physical interfaces to enhance live digital music and is
also implementing musical compositions for mobile devices.
She has been
exhibiting in Europe, Asia, USA, South America and Australia since 1985. She
has been participating in exhibitions at the Australian Center of Contemporary
Art, Melbourne, Australia; Kunsthaus Dresden, Germany; Kiasma Museum of
Contemporary Art, Helsinki, Finland; European Media Arts Festival, Germany; Centre
d'Arte Contemporain de Basse Normandie, France among others.

"I like to think about 13 Volts and 1 Carrot as a field -
to be examined in terms of movements, gestures, tempo, loundness/silence -
between
the electric field and the organic - the eatable. The sounds I use are
also based on this notion, from natural sounds, to a synthezised sound.
I also like to think of
the performance as a dance, sound
performance, a moving sculpture, and a narrative.
In 13 Volts and 1
Carrot I use my gestural interface Kinesis."