Andrea Parkins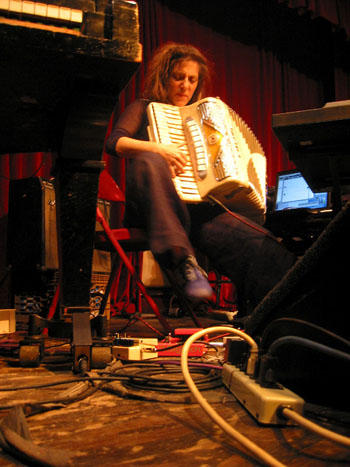 biegungen102:
Andrea Parkins (accordion, electronics)
Andrea Parkins is a New York-based sound artist,composer and improviser. She performs
electro-acoustic works for electronically-processed accordion and laptop. The
project merges digital and analog electronics with treatments by "Rube
Goldberg" -- a live generative processing instrument designed by the
artist-- and writes a fractured, yet
fluid sonic language as Parkins releases awkward electronic disruptions,
concretized sampling and feedback into a rising flow of accordion sonority
Her compositions have included solo works; small and
large ensemble pieces and sound design for her own multi-disciplinary
installations. She has recorded, performed and toured throughout North
America, Europe and in Asia, as an ensemble leader, solo artist, and
collaborator and as a member of Ellery Eskelin's acclaimed avant-jazz trio.
Her latest ensemble project, Ash &
Tabula, a collaboration with Wilco guitarist extraordinaire Nels Cline and drummer Tom Rainey, has released a CD
on the Atavistic label.
Parkins has received several performance grants from Meet
the Composer as well as artist's residency grants from Harvestworks in New York
City; the Cultural Board of the City of Hamburg, Germany and CESTA in Tabor,
Czech Republic. In 2004 Parkins performed in the Kitchen's "New Sound/New
York" festival in a work curated by Michael J. Schumaker featuring musical
collaborations with architects. Parkins' audio work Freak Cloud Idiom was among those recently featured in the
"Bitstreams" digital art exhibition at the Whitney Museum of American Art,
New York.
Parkins' performance plans for the remainder of 2006 include
concerts in Europe with electro-vocalist Jessica Constable celebrating the
upcoming release of their new duo CD. Her collaborative project Ash & Tabula, recently featured at
the Music Unlimited Festival in Wels,
Austria and the FIMAV festival in
Victoriaville, Quebec, will tour in Europe this winter in support of a new live
CD on the Victo label. Currently, Parkins is developing a series of
MAX/MSP-based generative solo audio works inspired by Rube Goldberg's
circuitous contraptions. She plans a CD release of these pieces and to return
to Europe this coming winter and in the spring of 2007 to perform the project.