Henning Lundkvist / Penelopex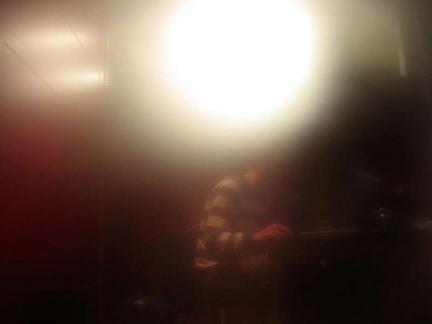 the conclusion of a system of things
Henning Lundkvist - manipulated sounds and tapes
henning lundkvist will perform a presentation of his work "the conclusion of a system of things", another version of which will be released as a CD + booklet on komplott later this winter. "the conclusion..." is a work based on representations and visions of the apocalypse; on society's fear of it's own death; on society's monuments as ruins; on the apocalypse as the moment which describes and contains the nature of what has been erased; on the end of the world as the continuation of everyday life by other means. "the conclusion of an order of things" borrows its title from jehovah's whitnesses, and many of its sounds from b-movies, creating a collage of statements about potential ends of our present condition, as well as possible continuations of it. presentations of "the conclusion of a system of things" has been performed in sweden (malmö, varberg, göteborg) and ireland (dublin) and will also be performed in leipzig.
henning lundkvist is based in malmö, sweden, and has worked with sound
for almost a decade. he is, in various constellations, featured on
roughly 10 records and CDs, released on labels like freeland records
(italia) and iDEAL recordings (sweden). a new CD will be released on the label komplott during winter 2006-2007.
Für Bilder, Audio, und kurzen Text siehe: http://inaktiv.net/?page_id=52

---
AUDIO PORTRAIT OF BERLIN 06
Penelopex (lap-top live/ pre-recorded sounds)
www.myspace.com/penelopexproject
AUDIO PORTRAIT OF BERLIN 06 is a live audio drama that tries to describe and discover the city through an auditive language. It is made from fragments of noise, recorded in encounters of places, people, situations and objects. Combined they create an auditive, descriptive tour of Berlin, turning the city into a tactile experience for its invisible observers and passengers and turning the metropoltitian noise into music using the auditive imagination of each member of the audience.
Marta Zapparoli aka Penelopex:
born in Bologna (Italy)

worked in classic and modern dance productions, in experimental theatre (Amorevole Compagnia Pneumatica) and performances (The Church of Funk, "Drum Machine" by Norma Jeane, Alice by Tele+, Anna Albertarelli dancer, in GDA video/performance).

since 1999 numerous exhibitions/installations and performances including electronic music

since 2002 member of 2B1C (two blondes one computer group) / poetikaelektronika together with Elena Skoko
Exhibitions/sound installations and performances from 2002:
VIDIA (cesena) - NGDM (galleria a ravenna) -INDIE (cervia) - COX18 (milano), INTERZONA (verona) - WADADA (rimini) - GRATIS (senigallia) - LINK (bologna), COCORICO (riccione) - VELVET (rimini) - RADIOESTENSIONI NIGHT (covo, bologna) - STREET RAVE PARADE antiproibizionista bologna. ELETTRO+ (firenze) Errata Porpora - event organization and coordination by Channel83 - Ginnico Celeste Festival (gambettola) CESENA, InfoModo book store (bologna) - L'Oreal Accademy, Act Out event/exibition (roma).
Shows with 2B1C:
 ZÜRICH (CH) 5/04/2003 World's End Gallery
 - BOLOGNA (IT) 12/04/2003 Distorsonie Festival, Link
 - HAMBURG (DE) 22/08/2003 Ladyfest Hamburg MS Stubnitz
 - BOLOGNA (IT) 6/12/2003 Soniq TPO
 - BOLOGNA (IT) 13/05/2004 Modo Infoshop
 - FAENZA (IT) 24/09/2004 Museo Zauli
 - TORINO (IT) 13/03/2005 FNAC. 

Streaming: 
Radio Clapas, 93.5 FM in Montpellier, France (www.babesinboyland.info)
 Radio K Centrale, Bologna
Dieses Projekt wird finanziert von dem GAI - Associazione per il circuito dei Giovani Artisti Italiani/ PROGRAMM MOVIN 'UP 2006