The Sampledelic Rockers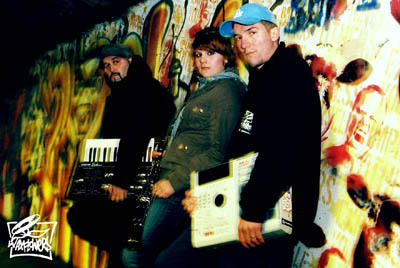 Waxflowers pres.: The Sampledelic Rockers

We
are the Sampledelic Rockers, a threesome mpc formation from the
Netherlands consisting of Smooth Cee (Waxflowers, ON Turntable Jazz), Fourth
Element (Waxflowers, NOTmonotnous) and Gradi Nitert.
Old
known in a new way, as founders of the Waxflowers dj crew we have
been rocking shows throughout Europe for more then 9 years now.
With
our new "live" project we will play our own songs using 2 mpc's
(drummachines), 2 synthesizers, live percussion, clarinet, guitar and
cello.
A
unique combination of electronic and classical instruments which guarantee a
very hype show filled with banging beats, melodic tunes and action on stage!
The music
can not be subscribed as one-of-a-kind. It's mostly inspired by (old-school) hip-hop,
kraftwerk, portishead and trip-hop combined with some reggea influences.
This
brings an experimental, electronic live act playing melodic, uptempo songs
which will perfectly fit at an hip-hop-, electro- or danceshow.
Last
year we have had several shows in the Netherlands, Germany, Czech Republic,
Austria, Switzerland and Belgium.
It's
all about a live set, filled with banging beats, humour and live mpc
action!
During this tour they will play various songs out of
their own repertoire. Live instruments combined with original samples, raw
beats and straight-up musicians.
This will guarantee plenty of action on stage!
www.myspace.com/waxflowersrocking


&

ausland presents:
semdikráska

(dj / nele konopka///maos rache/k&k/u.a.)
experimental hip hop / dubstep / noise for the dancefloor