Volga (Moscow, RUS)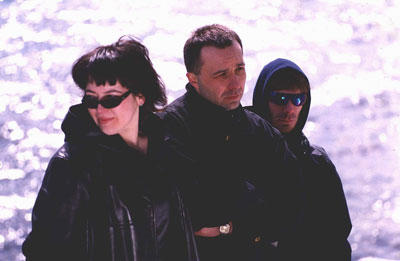 Volga - experimental electronica and pagan songs of ancient Russia
Angela Manukjan - vocals
Roman Lebedev - electronics, guitar
Alexei Borisov - electronics, guitar, back-vocal
Uri Balashov - zvukosuk, tibetian cup
&  dj maugli aka vlad burstein!

http://volgamusic.ru/pages/in_eng/in_eng_index.html
von l. nach r. : Manukjan, Borisov, Borisov
"Volga" is a unique project on the Moscow music scene. It
successfully combines experimental electronics, contemporary dance
rhythms and original Russian folklore. Pagan psychedelia, shamanism,
authentic melodies and lyrics from ancient Russian texts (12th-19th
centuries A.D.) mixed with urban aesthetics and contemporary video art
are the essential components of Volga's performances.
Volga's current line-up includes: professionally educated vocalist and
folklore researcher Angela Manukian (joint projects with Richard
Norvila aka Benzo and Species Of Fishes duo); internationally
acknowledged electronics specialists and multi-instrumentalists Alexei
Borisov (Notchnoi Prospekt, F.R.U.I.T.S., The Gosplan Trio, joint
projects with KK Null (Japan), Jeffrey Surak (USA), Anton Nikkila
(Finland), Adam Ebringer (Australia), The New Blockaders (UK), Tania
Stene (Norway), Sergei Letov (Russia)) and Roman Lebedev (Metal
Corrosion, Alien Pat Holman, Idioritmik); Uri Balashov, artist and
inventor of selfmade instruments and Grammy winner (artwork for Frank
Zappa "Civilization III" album, 1996). The performances of Volga are
usually accompanied by video projections created in realtime by Moscow
video artist Roman Anikushin and Parisian Oleg Kornev.
Volga often tours in Russia and abroad and has also participated in
different international music festivals including Burg Herzberg Open
Air 2000 (Germany), SKIF-4 (St.Peterburg, Russia, 2000), Vital Water
2002/04 (Altai, Russia), HUH Festival in Tallinn (Estonia, 2003), The
Festival of Russian Contemporary Art in Kiasma Museum in Helsinki
(Finland, 2004), ?Sayan Ring 2004? (Siberia, Russia), East-West
Festival in Die (France, 2004), Progress Ex-04 in Ljubljana (Slovenia
2004), Days of Russian Culture in Bangkok (Thailand 2004).
The self-titled debut CD of Volga was released in 1999 by Moscow based
Exotica Records and received very positive responses not only from
critics but also from audiences in Russia and Europe as well. The
follow-up CD, "Bottoms up!", released at the beginning of 2003, is a
collection of Volga's most melodic and danceable songs. The third
release of Volga was a CD entitled "Concert", recorded live at DOM club
in Moscow and released by Sketis Music in April 2003. The latest CD,
"Three Fields", was released by Volga in cooperation with Sketis Music
in 2004.
Discography:

"Volga" (CD, Exotica Records 1999)
"Bottoms up!" (CD, Exotica Records 2003)
"Concert" (CD, Sketis Music 2003)
"Three Fields" (CD, Volga/Sketis Music 2004)
"Selected Works" (CD, Volga/Lollipop Shop 2005)
"5" Remixed (CD, Volga / Sketis music 2005)

Reviews:
Throughout Russia?s turbulent history the Volga has always flowed,
its 2000 navigable miles an artery of commerce and culture, of peoples
and their passions. The group Volga create a music with a similar sense
of eternal flow and temporal omnipresence, gracefully melding timeless
and ancient folk motifs with the fleeting immediacy of Ambient
experiment. This effect is created by framing the vocals of Anjela
Manukjan, who adopts Russian folk styles, with electroacoustic washes
that stretch out behind the music like vast fertile flood plains. [...]
In almost all instances the instrumental backings are distinctive,
quirky and interesting enough to be compelling in their own right. Very
occasionally, gentler passages flounder in insipid meanders akin to
budget ?moods? albums of the type producers wishing to give the vocals
a cliched faux dignity might favor. However, these moments are rare and
it would be churlish to let them hinder one?s pleasure of following
Volga as they flow home to the sea.
by Nick Southgate. VOLGA: THREE FIELDS, Wire, November 2004