Johansson&Ankersmit/ P.Antenna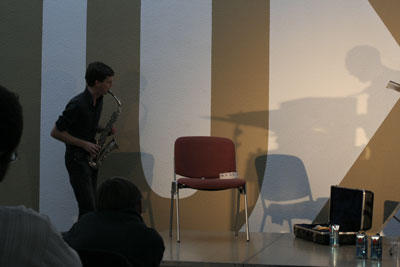 biegungen113:
Sven-Åke Johansson & Thomas Ankersmit

+
PowerAntenna
Valerio Tricoli & Claudio Rocchetti
"Die Innenseite des Saxophons kann man schlecht sehen, sie sich aber umso besser vorstellen wenn es tönt, bei der gestreichelten Pappe verhält es sich umgekehrt!"
foto: Jörg Wilczek
Thomas Ankersmit

(born 1979, Leiden, the Netherlands) has been working with saxophone, synthesizer and computer music independently and in collaboration with other artists such as Phill Niblock, Kevin Drumm, Jim O'Rourke, Keith Rowe, Axel Dörner, Gert-Jan Prins, Borbetomagus and Alvin Lucier since 1998. His saxophone work focusses on the abstract, timbral extremes of the instrument, combining sustained streams of intense multiphonic sound with acoustically amplified micro-events occurring inside the instrument. Often working closely with engineers and scientists, his recent performances incorporate modular synthesizers and computers with prototype hyper-directional loudspeakers producing spots and corridors of sound and silence in three-dimensional space. Recent releases include a CD with contributions by Kevin Drumm and a split LP with Jim O'Rourke. A new solo LP for the Milan-based Fringes label is forthcoming. Ankersmit has given numerous international solo performances, including PS1/MoMa, New York; The Museum of Contemporary Art, Chicago; de Appel and Paradiso, Amsterdam; KW Institute for Contemporary Art, Podewil and Club Transmediale, Berlin; The Kunsthalle Basel and festivals in Frankfurt, Geneva, Paris, Bologna, Vienna, Stockholm, Oslo, Los Angeles and Tokyo. He lives in Berlin and Amsterdam.
Sven-Åke Johansson

Geb. 1943 in Mariestad (Schweden) Komponist und Musiker, Poet und bildender Künstler, Autor und Initiator verschiedener Musikproduktionen, darunter ?Die Harke und der Spaten" ?Ueber Ursache und Wirkung der Meinungsverschiedenheiten beim Turmbau zu Babel" (zusammen mit Alexander von Schilppenbach). Zahlreiche Ausstellungen, Buchpublikationen und nahezu 40 Platten-und CD-Einspielungen. Er war stilbildend innerhalb der freien europäischen Improvisationsmusik. Zusammen mit Alexander von Schlippenbach, Peter Kowald und Peter Brötzmann entwickelte er in den 60er Jahren eine europäische Version von Freejazz. Langjährige Zusammenarbeit mit Manfred Schoof, Schlippenbach, Rüdiger Carl und Hans Reichel. Am bekanntesten ist er als virtuoser Schlagzeuger, aber er tritt auch als Sänger mit frei improvisierten Stücken auf. Kompositionen u. a.: "Seewetter 69" (Radiohörstück im Auftrag von Deutschlandradio, 2001), sowie "Polis, Wachs und Pomade" (Kammerstück für Streicher, Bläser und Stimme), Kompositionsauftrag des SWR, Uraufführung: Donaueschinger Musiktage, 20.10.2001. "MM" schäumend, 2003, Stereo für 8, 2005
Claudio Rocchetti

born in Bozen 1976. After experiencing the straight-edge hardcore scene, he began exploring the many realms of noise. He played his "destructive" djing within the group/label/collective Sonic Belligeranza. Rocchetti is now working on the composition of cinematic musical landscapes with the aid of old rare records, dusty analogue instruments as source material (old radios, customized turntables, grammophones...).
Valerio Tricoli

, electroacoustic composer and radical improviser on analogue electronic instruments, sound-engineer and organiser of concerts and cooperations, is one of the leading musicians in the new Italian music scene. His compositions bridge musique concrète and conceptual forms of sound (i.e. the radical interest in how reality, virtuality, memory relate to each other during the acoustic event): music, as a recorded or as a synthetically-processed sound, is always hovering between the "here and now" of the event and the shady domain of memory ? distant but at the same time present, like a déjà ?vu experience. Tricoli plays live music with electronic instruments ? most of them analogue ? (reel-to-reel tape recorders, synthesizers, suspended loudspeakers, microphones, light effects), however the structure of the device is ever-changing, seeking multiple relations between the performer, the device and the space in which the event takes place. He is one of the founders of the Bowindo label/collective ("arguably the best thing to come out of Italy since Luigi Nono", Dan Warburton, The Wire), and of the band 3/4HadBeenEliminated, a daring synthesis between improvisation, electroacoustic composition and avant-rock sensitivity. His composition "Did they? Did I?" was defined by Andrew Culler "one of the more substantial musique concrète I've heard in quite a while" and welcomed with great critical interest. "Metaprogramming From Within The Eye Of The Storm", his latest composition, was released in 2006. Among the records on which he worked on as a sound-engineer, Be Mine Tonight (2003) by Dean Roberts, Healing Memories in Present Tension (2003) by Stefano Pilia, Jealousy and Diamonds (2005) by the Autistic Daughters, Between Neck and Stomach (2006) by Andrea Belfi.