EXP-ART: Tag der Kosmonauten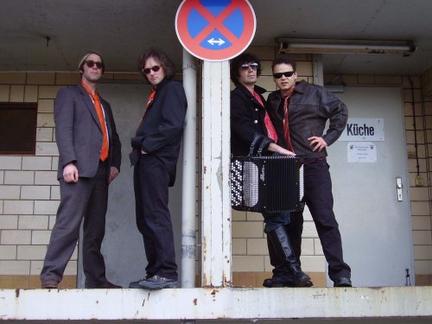 EXP-ART presentiert zum Tag der Kosmonauten
Bloody Kalinka, Leonid Soybelmann, Noisemoss, Michael Schmacke, Linas
Den Fortschritt russisch feiern! In der Variante von Noisemoss wird das Dröhnen der startenden Raketen zum Soundtrack für den Auftakt eines russischen Abends. Den wissenschaftlichen Aspekt entwickelt Michael Schmacke mit seinem Vortrag "Der Mensch zwischen Weltall und Gehirn". Leonid Soybelmann und Guests sorgen für die nötige Schwerelosigkeit und Bloody Kalinka für die richtige Tanzstimmung zum Abschluss der Reise.
"Bloody Kalinka" (aka Dr.Bajan)
Polka , russischer Polka!
4 internationale Musiker lieben und spielen den Beat des schnellen Reggae und fetzigen SKA, dazu wird die Mischung mit feinstem Polka Rhythmus verfeinert! Es wird gesungen, gelacht, getanzt, gehupft, Wodka getrunken und geliebt ....das gehort eben zu russischen Polkaseele. Die Musiker, jeder aus einer anderen Ecke des Erdballs, werden sich fur Sie an ihren akustischen Instrumenten auf russisch, polnisch, schwedisch, und deutsch, austoben.
Bloody Kalinka sind:
Tomek Kaczmarzyk - drums, Toni Workuta - bass, Pepe Fröhlich-guitar, Kolja Fomin (aka Dr.Bajan) - Akkordeon, Christian Runge - violin, Paul Schwingenschloeg - trumpet, Lena Krüger - vocals

Leonid Soybelman - live guitar
Marcello Silvio Busato - percussion
MIG21 - turntables (live guitar)
LEONID SOYBELMAN - geboren in Moldavien,
absolvierte er das Konservatorium in Tallinn und war zwei Jahre Mitglied des Orchesters der Roten Armee. Leonid Soybelmann war Mitglied von
Ne Zhdali
und
Kletka Red
. Seit zehn Jahren lebt er in Berlin und arbeitet dort als Sologitarrist, u.a. für Theater- und Filmproduktionen. So steht er am Berliner Ensemble als Musiker auf der Bühne und komponierte die Musik fur den Film "Die Jahreszeit des Glücks". Am schauspielhannover ist er Musiker in Sergi Belbels "Mobil" in der Regie von Meret Matter.
Achtung! Nicht fur alle C.W.Moss Fans:
Noisemoss
(Berlin / St.Petersburg)
vs.

Iwanka
(Moscow) feat. Marc Gotje (Berlin/Kiew) & pretty
SPECIAL GUEST
Ritm & Noise
Dr. Maximoss (Berlin/St.Petersburg) - Rajastany Sarangi, Objekte
Chr. Heitmoss (Berlin) - Guitar, Noise, Einfluß
Iwanka (Moscow) - Minimals
Marc Gotje (Kiew/Berlin) - orgasmic Drums
and .....
Soon the Mothership will land... to bring the MOSS-vibe to the hungry audience in order to wash their brains and sharpen the Inner-Conciousness ... To make them aware that there is more than f...ing Mainstream ... :-) Thick Smoke is cruising through the excited Audience ... AND ... Once upon a Time... in a faraway parallel Universe, existed a intergalactic humbug between the forces of GOOD and EVIL ...on Planet Splurge, Moss-Funk became the force to alter the Cosmoss beyond the limits of time and dimension!... and the incredible flow to extraterrestial areas goes on... while the guys keep on using no words but vibes to cruise...
Multimedia-Vortrag:
Der Mensch zwischen Weltall und Gehirn
von MICHAEL SCHMACKE
Wissenschaftliche Zeichnungen fuhren uns in die Ära des kalten Krieges, als Welttraumfliegen noch eine Sportart war. Drones und NoiseScapes geben uns Einsicht in die Verhältnisse der Planeten.
Bblitch Anderson von den Fake Masters informiert uns über seine neuesten Einsichten.
Der in West-Berlin geborene Michael Schmacke stellt seine neueste wissenserweiternde Arbeit vor.
Nach "Berlin 1699" und "The 5 Popes" setzt er sich diesmal mit dem Verhaltnis des menschlichen Gehirns zum Universum auseinander...
Zum Abschluss des Programms zeigt er den Hit vom Sommer 1992, den Film
Visuals by PiXXel

Linas (Berlin/Litauen)
Boris Zorin (St.Petersburg)