sololala (part I)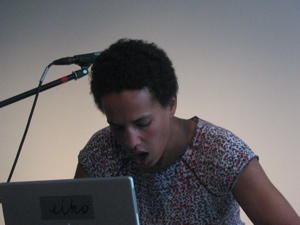 sololala (part I):

eiko (CH)/lukas simonis (NL)/marcel türkowsky(D)
sololala was a festival
organized by Gregor Hotz, Jeremy Clarke, Ulrike Ertl and Stefan Pente
in the mid 90ies in Hochzeitsraum, Strelitzer Strasse 60.
sololala presented 3 solo-performances each day during one week, and its special atmosphere
was created by a very charming mix of "classical" free improvisers,
musicians of other styles, performers and non-professional artists on a mission. The room itself
was also fantastic; it was given to a group of people in the wake of a
tempted squatting of a house in Veteranenstrasse, opposite of the "Acud".
sololala
took place three times, and I'd like to play another round in ausland,
where I have been organizing concerts during the last years. The relaunch of sololala
is presenting 3 musicians with very different backgrounds and an own universe of sound. part II will follow in june.
__________________________________________________________
eiko': joana aderi (voc, electronics)
vocal based experimental electronic performance
it always starts with an empty hard disc. language is sound, words can
be fragmented and the voice is the wall paper of a new room. noise
rises in the inner ear. sometimes it is the beginning of fear,
sometimes the end of a laughter. you think, it is easier to be honest
in a loud voice? "kraaa, kraaa" - the call of a black bird. it flies
over the pond three times and then it is gone again. leaving a smell,
some humor and the slight idea of faith.
a furious electronic live act, that leads far away from prevalent computer music.

_____________________________________________________________________________


Lukas Simonis (guitar, voice, objects, laptop)
Lukas Simonis has his roots as an
instrumentalist and musical 'activist' in the industrial music and
noise rock of the Eighties ( Throbbing Gristle, the Residents, Pere
Ubu, Sonic Youth and beyond).Being a part of the Rotterdam jazzbunker
scene (a collective that consisted of heavy drug induced punk rockers,
freejazzers, early electronic musicians and pre-postrock combo's) he
discovered the delimited world of improvisation. In the meantime he
played in bands like Dull Schicksal, Trespassers W and Morzelpronk. At
the same time he was writing for underground magazines like Trespassers
W, Opscene, Mondain Den Haag and the Koekrandt as well as organizing
concerts, events and films, first at the Jazzbunker in Rotterdam later
on the Dissonanten festival, the Dissidenten festival, Popifilm,
Dodorama and finally WORM, a multimedia centre for experimentel art.


http://www.xs4all.nl/~lukas/

_______________________________________________________________________________________
Marcel Türkowsky (tapes, toys, bass, electronics)

Marcel
Türkowsky born 1979 in East Berlin is a musician and
soundartist/recordist whose work has included avant-rock, free
improvisation, noise, experimental electronica, psych, minimalism,
drone styles and acoustic ecology. Constantly traveling doing
fieldrecordings his main instruments of choice are bass, memory tapes,
fieldrecordings, objects/toys and electronics, lined up with other
instruments and approaches incorporated into his work. Obssessed and
inspired by visual arts, movie and literature his musics are a
series of stories bound in between contexts, from the city to the
country. Türkowsky focusses on expanding the possibilities of sound
through an exploratory approach to duration, silence, and suspension.
Yep, and mostly it turns out to be very organic and playful with
natural soundexplosions and surprising interactions.