Z.Karkowski/Sudden Infant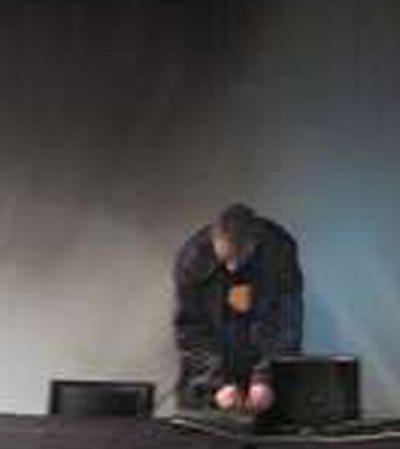 Zbigniew Karkowski
(PL) - laptop
He was born in 1958 in Krakow, Poland. He studied composition at the State College of Music in Gothenburg, Sweden, aesthetics of modern music at the University of Gothenburg's Department of Musicology, and computer music at the Chalmers University of Technology. After completing his studies in Sweden, he studied sonology for a year at the Royal Conservatory of Music in Den Haag, Netherlands. During his education, he also attended many summer composition master courses arranged by Centre Acanthes in Avignon and Aix-en-Provence, France, studying with Iannis Xenakis, Olivier Messiaen, Pierre Boulez and Georges Aperghis, among others. He works actively as a composer of both acoustic and electroacoustic music. He has written pieces for large orchestra (commissioned and performed by the Gothenburg Symphony Orchestra), plus an opera and several chamber music pieces that were performed by professional ensembles in Sweden, Poland, and Germany. He is a founding member of the electroacoustic music performance trio "Sensorband". Zbigniew has lived and worked in Tokyo, Japan for the past years, and is active in the underground noise scene there.
http://www.myspace.com/zbigniewkarkowski

+
Sudden Infant (CH) - electronics, noise toys, vocals

Joke Lanz and his companions have spread their incredible sounds and actions in many tours across Europe, USA, Japan, Taiwan.

Working in the area of Experimental and Free Music, Sudden Infant is building up complex Noise compositions, using unconventional sound sources, lo-fi electronics and turntables. Sudden Infant's music has a humorous and highly improvised character. The result is abrupt Musique Concrète juxtapositions of spasmodic gibbering and a battery of disorienting electronics. It's a fragmented field of sound that comes to its own autonomy!
°Based in Berlin & London
°Free studies in Performance Art, Improvised and Noise Music.
°Since 1986 a broad variety of band projects such as: Sudden Infant, WAL,
Schimpfluch-Gruppe, Catholic Boys in Heavy Leather, The Eye of Arghhh,
Opposite
Opponents, Tourette, Vostok 1, Psychic Rally, Vehikel & Gefäss,
Schnäbi Gaggi
Pissi Gaggi, Linako's Lovely Loops, Shitfun, Jaywalker, MK
Selection.
°Psychic Rally, experimental radio show on LoRa, Zürich (1989-1995).
°Various Exhibitions, Dance and Theatre projects with sound objects and noise
installations. Innumerable releases on international labels e.g. RRR, SSSM,
Tochnit Aleph, Schimpfluch, Adverse, GROSS, Artware, MSBR, Klanggalerie,
Blossoming Noise etc.
°Led workshops about Turntablism & Noise Music at the Music Academy
Lucerne.
°Collaborations and concerts with Z'EV, Christian Marclay, Voice Crack, Peter
Kowald, Carlos Giffoni, Key Ransone, Roger Rotor, Rudolf Eb.er, Runzelstirn &
Gurgelstock, Annie Stubbs, Marc Zeier, G.X. Jupitter-Larsen, Daniel Menche,
Marco Käppeli, Hämi Hämmerli, Bruno Amstad, MSBR, Aube, Devotchka.s
Conundrum, C.C.C.C., Con-Dom, Brume, Nomex, Tac, DJ Olive,
Neuromodulator,
Nikola Lutz, Günter Weiss, Omri Ziegele, Billiger Bauer,
Inzekt, Daniel
Löwenbrück, Dave Phillips, Franz Lieberherr, Chris
Wiesendanger, DOM, Charlotte
Hug and many others.

++
DJs Tochnit Aleph + Antoine Chessex