A.Krebs/L.Fresse&Ch.Kesten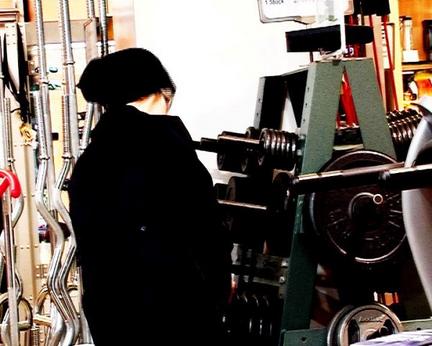 Wir kennen weder den Anfang noch das Ende der Geschichte. Wir wissen
nur, dass etwas passiert ist und dass wir dieses "etwas" diesmal nicht
verpasst haben.

Ludovic Fresse
, percussions, toys, objects
Annette Krebs
, tischgitarre, objekte, elektronik
Annette Krebs lebt und arbeitet seit 1993 in Berlin. Sie entwickelte eine musikalische Sprache, die Geräusch- und Klangmaterial gleichberechtigt integriert, und zu einer eher kontemplativ abstrakten, als im traditionellen Sinne dramaturgisch orientierten Ästhetik verbindet.
Sie ist an zahlreichen musikalischen und interdisziplinären Projekten beteiligt und spielt/spielte auf Konzerten und Festivals in Europa, Australien, Asien und Nordamerika.
aktuelle CD Veröffentlichungen, u.a.:
"various projects" CDr-2 (electroakustische Miniaturen, Stücke mit Robin Hayward, Steffi Weismann,Toshimaru Nakamura),Berlin,CDr,2006
"Neue Musik in Deutschland 1950 - 2000",Deutscher Musikrat 8 CD -Box, mit "Phosphor",2005
"Improvised Music from Japan" Extra 2006:Berlin
Beirut-Ystad", Olof Bright 2007
upcoming: Sgraffito, Cdr, 2007
www.myspace.com/sberk1
Ludovic Fresse: Geb. 1979 in Nancy (Frankreich), studierte elektroakustische Komposition an der Ecole Nationale de Musique Pantin. Er spielte in zahlreichen Musikfestivals in Frankreich (Futura, Musique Action, Densités, Nuit Blanche de la Ville de Paris...) sowie in Belgien, Luxemburg und Polen . Er hat zwei CDs, "L'Echo et le Silence" (2000) und "Le Cancer du Nombril" (2001) im Bereich Klangkunst herausgegeben und Musikbegleitung für Filme von Jean Painlevé und Friedrich Murnau komponiert. Er lebt und arbeitet in Berlin seit 2006 .
+

Christian Kesten (Stimme)
o.T. (atem zunge
lippen) | untitled (breath tongue lips)
arbeitet mit einatmend wie ausatmend erzeugten monochromen
Atemtexturen in genau festgelegten Proportionen und dauert 31:30 min.
consists in inhaling as exhaling produced monochrome
breathing textures in fixed proportions. The duration of the piece is 31:30
min.