Alessandro De Francesco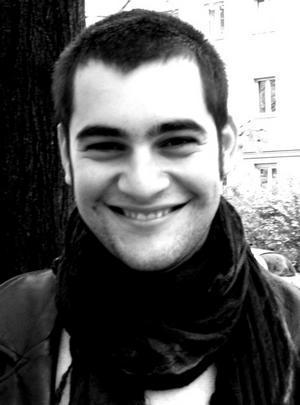 lo spostamento degli oggetti (i.e. moving objects) may be called a poetry reading with digital voice processing.
Alessandro De Francesco will read his own poems from his recent book lo spostamento degli oggetti (Cierre Grafica - Anterem, Verona) and process his voice in quadraphonic surround using playback and real-time treatments. Alessandro conceives this way of proposing his poetry as a sort of reading-performance where some linguistic and semantic aspects of his poems (which come not from the sound poetry tradition at all) are enhanced through minimal digital synthesis, superposition, morphing, stretching and pitching of reading voice, obtained through IRCAM, MOTU and STEIM softwares.
After several poetry installations and performances, Alessandro came to this new project as a presentation of his book (the texts are in Italian, but English or German translations will be provided) and developed it in 2007 during an artistic residency at STEIM, Amsterdam.
BIO

Alessandro De Francesco (b. in Pisa, Italy, 1981) is one of the most interesting authors and performers in the young italian poetry scene. He studied literature, philosophy, composition and digital sound art in Pisa, Florence, Siena, Paris (École Normale Supérieure, IRCAM), Berlin (Universität der Künste, Technische Universität) and Lyon, where he is now Ph. D. candidate for Comparative poetry and teacher of Contemporary italian poetry at École Normale Supérieure.
He has been artist-in-residence in Kunsthaus Tacheles, Denkmalschmiede Höfgen and STEIM, and has been invited to set-up poetry installations, lectures and readings in Verona, Pisa, Florence, Bologna, Paris, Berlin, Leipzig, Tallinn and Lyon.
His poems and essays are published in important Italian and French reviews and have been shortlisted for several prizes and programs for young talents.
<?xml:namespace prefix = o />
lo spostamento degli oggetti is supported by STEIM, Amsterdam (www.steim.org):
Daniel Schorno (artistic and technical advice)
Robert van Heumen (artistic and technical advice)
Takuro Mizuta Lippit (artistic and technical advice)
Nico Bes (technical aids)