Static (new trio!)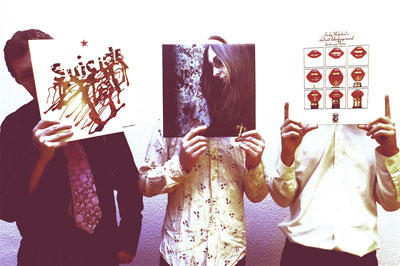 STATIC is a trio from now on!
After 6 years working mainly as a solo artist with beautiful guests musicians (hugs and kisses: justine, valerie, ronald, christoph, stefan, martin) I have now put together a band.
What happened??
I started playing drums again after being asked to play John Zorns COBRA in 2004@ Maerzmusik and then played even more with jan jelinek and andrew pekler as GROUPSHOW and with the POLE live band. After seeing a peter brötzmann trio concert in amsterdam lately I suddenly felt that I should improvise on drums again and leave the laptop as live tool behind. the only exception is the house live set of THE VULVA STRING QUARTETT, which is fine the way it is.So a few collaborations with my old free jazz mates will happen in the near future.
Ok,back to STATIC:
The live set:
I will play a mixed drumset consisting of a prepared trap set and some fancy vintage electronic drums.
Kassian Troyer will use an MPC jj os and a guitar to play the loop section live.
Falko Teichmann will sing and /or speak through a delay-vocoder unit and play some weird stuff on the beloved omnichord and a philicorda organ..
We will have some strange strobo fx and a warholesque oil lamp and an artfog machine filled with lsd..careful with that axe eugene!!
We will play about 10 songs which I have been working on for the last 4 years. I never finished them until I realised they have to be performed by a band, not with a laptop. so we worked on them in the last 4 weeks...
And that's a lot of fun.
+
DICTAPHONE
Oliver Doerell - electronics
Roger Döhring - sax, clarinet
We were able to convince ANDREW PEKLER to take care of the turntables.