Marchetti/Higashi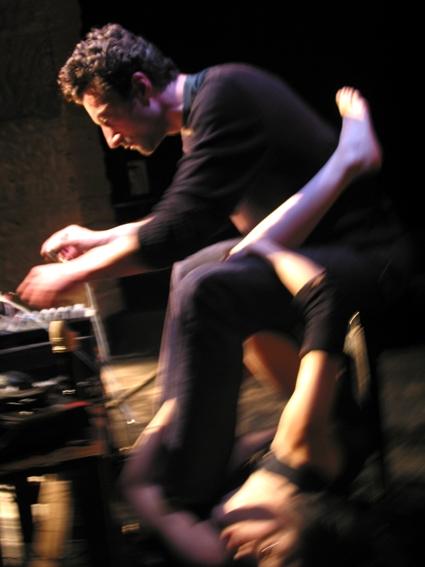 Musik + Tanz Duo
Lionel Marchetti + Yoko Higashi
Nachdem sie Erfahrungen mit verschiedenen Körperausdrucksformen gesammelt hat (Nô Theater, Butoh, Commedia del arte und Aïkido), hatte Yoko Higashi ihre ersten Auftritte zunächst in Tokio, dann in Lyon. Sie ist Darstellerin in mehreren Tanzstücken, insbesondere bei der Compagnie Shenk et Masaki Iwana. 2002 initiiert sie die «Performance mit Stimme» mit Musikern des Espace Prothèse in Lyon. Zusammen mit dem Gitarristen und Komponisten Takeshi Yoshimura entwickelt sie das Duo Y Zen Rocks. Außerdem entwickelt sie eigene Projekte in Zusammenarbeit mit Lionel Marchetti und mit dem Musiker Florent Dichampt.
LIONEL MARCHETTI (électricité, hauts-parleurs)
Lionel Marchetti is a composer of musique concrète. First self-taught, he discovered the catalogue of Musique Concrète with Xavier Garcia. He has composed in the CFMI of Lyon 2 University between 1989 and 2002, where he still organizes workshops focused on the loudspeaker, the recorded sound and Musique Concrète, both on practical and theoretical levels. He has built his own recording studio, and composes also in the Groupe de Recherches Musicales in Paris since 1993. Lionel Marchetti also performs improvisation using microphones and loudspeakers, as a duo with Jérôme Noetinger, with the collective Le Cube with (Christophe Auger, Étienne Caire, Christophe Cardoen, Xavier Quérel, Jérôme Noetinger, Gaëlle Rouard) that performs live music and where films are shown and worked on interactively, and with the collective Archipel: Emmanuel Petit, Mathieu Werchowski, Sophie Agnel, Fabrice Charles, Pascal Battus. Since 1992, he organizes regular workshops centered on Radio and creation together with Olivier Capparos for France Culture. At the same time, he writes poetry, and develops theoretical thoughts on Musique concrète and the art of the loudspeaker.