Benjamin Dousteyssier
Submitted by
Melodie
on Sun, 2011-01-23 21:56.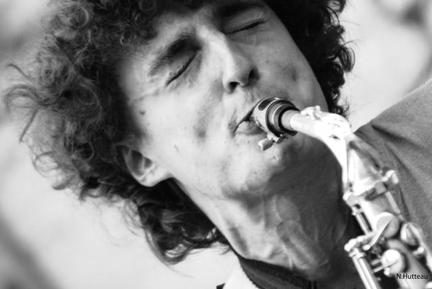 Benjamin Dousteyssier is a saxophonist and composer based in Paris. He works in several musical directions, first as a performer : He has played free-jazz (Actuum, Benjamin Dousteyssier quartet) and different kind of improvised musics (noise, free-Rock with bands like DDJ, Nux or Apax, minimalism with the Loutelier/Dousteyssier duo), his main interest is the different interactions possible between musicians.
In that direction, Benjamin writes music to explore new areas, new ways for the musicians to listen, play and create together.
He studied improvisation and composition at the Paris conservatory and graduated in 2010. Since, he plays with his bands in France (Jazz à Luz, Radio France, Jazz à la villette, Jazz in Marciac...). He's curently writing a piece for percussion and Saxophone and he's teaching the saxophone at the Blanc-Mesnil Conservatory in France.
Projects :
Actuum : www.collectifcoax.com/coax/actuum.html
Trio DDJ : www.collectifcoax.com/coax/ddj.html
Apax : www.myspace.com/apaxproject
Paul Lay trio : www.paul-lay.com