Yuko Oshima
Submitted by
Melodie
on Sun, 2011-01-30 18:36.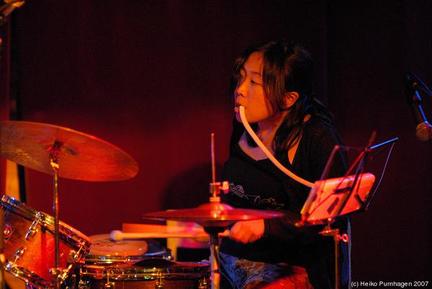 YUKO OSHIMA
drummer, composer, improviser
Japanese drummer, percussionist, composer based in France since 2000, Yuko OSHIMA has been developing her musical approach on drums through improvisations and compositions with musicians, dancers and also actors. As a drummer, Oshima is interested in breaking 'ordinary drum sounds' and intends to find a crossover of drummer's approach and percussionist's approach of classical and contemporary music in sound, rhythm and also technic. As an artist, Oshima is interested in creativity and humanity.
Since 2015, Oshima has been developing her duo 'bishinkodo' with Eric BROITMANN on acousmonium (orchestra of speakers) to realize her idea of creating 'music of drums' for drums and electronics; real mix of acoustic and electronic sounds in wide range. This project focus on her particular affection toward new approach for sound which she had been remaining throughout her music life influenced by mostly rock, jazz, contemporary and also pop music.
As a co-leader, Oshima plays in Donkey Monkey with Eve RISSER (piano), drums Duo with Hamid DRAKE, trio with Isabelle DUTHOIT (voice, clarinette) and Soizic LEBRAT (cello), another trio with Pak Yan LAU (piano, electronics) and Audrey LAURO (saxophone), and also some groups in Japan, especially Gakusei Jikken Shitsu which release their new album in 2017 from a French label 'bam balam records'. Besides she collaborates with dancers and also plays in a theater piece 'SCÉNES DE VIOLENCES CONJUGALES' directed by Gérard Watkins since 2016 as a musician and actress for which she wrote music.