Marino Pliakas
Submitted by
caribu
on Sun, 2012-01-08 17:14.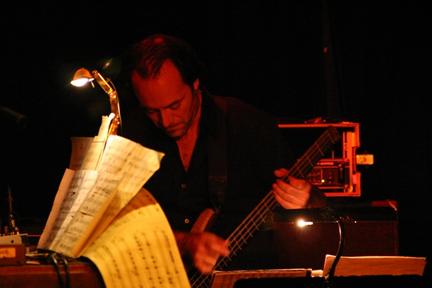 *1964 / 
Guitars and Basses
 / Swiss/ Greek, lives in Zurich/Switzerland.

Studies in classical guitar at the Zurich Conservatory and history at the University of Zurich. 

Plays and played besides STEAMBOAT SWITZERLAND [with Dominik Blum and Lucas Niggli] and FULL BLAST [Broetzmann-Pliakas-Wertmueller] with KK.Null-Pliakas-Wertmueller, Stephan Wittwer (SLUDGE 2000/3000) and Wittwer-Pliakas-Wertmueller, Mösiöblö, Die Firma (improvising string quartet); further collaborations with (choice) Caspar Broetzmann, Peter Broetzmann, John Cale, Nels Cline, Holger Czukay, Jacques Demierre, David Dramm, eRikm, Peter Evans, Terry and Andy Ex, Flea, Nick Franglen, Christoph Gallio, Marian Gold, Mats Gustafsson, Keiji Haino, Sam Hayden, Kalle Kalima, KK.Null, Toshinori Kondo, Jaki Liebezeit, Fred Lonberg-Holm, Phil Minton, Mouse on Mars, Steve Noble, Norbert Moeslang, Larry Polansky, Josh Pollock, Felix Profos, Massimo Pupillo, Jim O'Rourke, Olaf Rupp, Ken Vandermark, Trevor Watts, Michael Wertmueller, Stephan Wittwer, Kenny Wollesen, Alan Wilkinson, Mars Williams, Otomo Yoshihide and many others.