Polypoetic Soundpoetry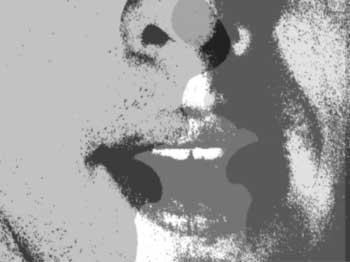 Jelle Meander (voice & vocal extended techniques, electronics | Belgien)
performing the following:
1) NIM@Ausland (20 minutes, voice and electronics)
2) (Poly)Poetry by Paul De Vree, Paul Van Ostaijen, Moniek Darge, Mark Insingel and Maja Jantar (15 minutes)
3) Amorgós (12 minutes, voice and electronics)
Jelle
Meander is a poet and musicologist. Since 1993, he has been working on
an oeuvre consisting of prose and drama as well as poetry. These pieces
are brought together in several works: Opus I to III collectively form
the Verzameld werk (Collected works), logically followed by the Postuum werk (Posthumous works).
He worked on these foundations until the year 2000. Since then, he has written two poetic pieces: Triplum (No. 1) and Slaapversjes voor Lorelei (No. 2). The compositions he has written besides these are collected under the titles Hors d'oeuvre(s), Dicht Boek and Vers Boek.
These and recent books /audiopieces have been performed on stage in the
form of recitals and performances (Ghent, Antwerp, Arnhem, Vienna,
...).
At present he is working on several projects: Krikri (poetic
collective), Alies (open form project) and N.I.M (sound structures), De
Roze Balletten (libretto), ...
He is also involved in doctoral research into the fusion of poetry and music since 1950 (Ghent University)
Pressephotos (hohe Auflösung):