Concert cancelled!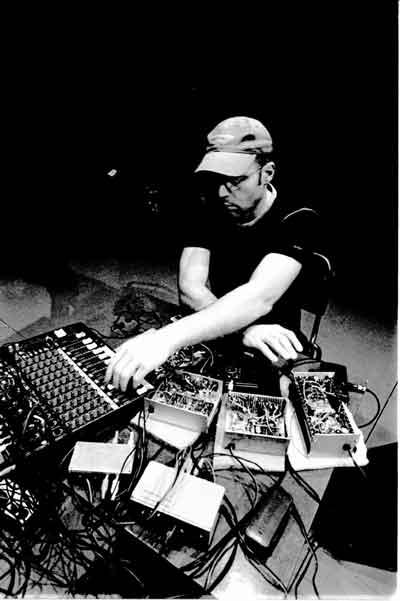 das Konzert wurde leider abgesagt...
this concert has been cancelled...
it's going to happen later some day!

biegungen24:
Prins/Ankersmit/Ielasi
Gert-Jan Prins (Amsterdam)
http://www.gjp.info
electronics, FM modulations, radio
Giuseppe Ielasi (Milan)
http://www.fringesrecordings.com
guitar, electronics
Thomas Ankersmit (Berlin)
http://situe0.tripod.com
saxophone
Gert-Jan Prins/Thomas Ankersmit/Giuseppe Ielasi
A trio made up of three instrumentalists with extremely abstract
approaches to their instruments. Initially a percussionist (Prins), a
guitarist (Ielasi) and a saxophonist (Ankersmit), all three have over
the course of time pushed their musical vocabularies far beyond the
boundaries of their instruments, by adding various electronics both
modern and primitive, modifying and designing new instruments (Prins's
custom built radio electronics), merging improvisation with
electroacoustic and tape music techniques, but above all by finding new
sounds from the readily available.
The three musician's work is characterized by an intensely abstract
music, violent but full of detail. Constructing a mass of sound both
dense and transparent, microscopically amplifying multiple streams
moving in multiple directions. All three work also as soloists and with
numerous others like Keith Rowe, Thomas Lehn, Christian Fennesz, Jim
O'Rourke, Kevin Drumm, Phill Niblock and many others. Individually they
have released CD's on labels such as Mego, Erstwhile and Grob.

Gert-Jan Prins
During the last three years Gert-Jan Prins established himself as
one of the central electronic performers in improvised music. His
unique self-developed live-electronics make use of radio and
transmitter technology, and create sounds with great physical energy.
Prins focuses on percussive and environmental noise creating a music
that's characterized by pure rawness in volume and sound, but also
utilizing subtlety in color through specific use of scraping, rasping
and other noise sounds. Current collaborations include E-RAX with Peter
van Bergen and Thomas Lehn, The Flirts with Cor Fuhler and MIMEO. He
has performed throughout Europe and the Americas.
"Though he started out in the mid-'80s Amsterdam scene as a jazz/improv
percussionist, Gert-Jan Prins has for some time concerned himself more
with a very idiosyncratic noise/electronics hybrid music comprised of -
in the case of Live - treatment of frequencies picked up by TV and
radio transmitters. A fine example of the sort of intelligent racket
that can result when a sophisticated improv ear is applied to the
qualities of sonic and textural abandonment that characterizes "noise"
music (these days unfortunately an all too rare scenario), Live makes
most records tagged with the "noise" appellation sound unimaginative
and tame. Prins constantly reconfigures and layers his hissily granular
white noise frequencies into rapidly stuttering staccato barrages,
their parts segueing in and out of synch with each other in
bewilderingly dense and detailed rhythms; high-speed, repetitive
jackhammer loops maniacally moving in and out of alignment with each
other. Pitches are built up, cut up and imploded into passages of
blasting noise-crunch in buffeting, whipping, circular patterns, to
then self-implode into blizzard-like barrages which surge with alarming
bursts of electricity. Aggressive and intense yet playful and perverse,
Live is one of the most radically out discs I've heard in some time."
Nick Cain, Opprobrium (about Gert-Jan Prins "Live" CD on Grob)
Thomas Ankersmit

Thomas Ankersmit is among a handful of improvisers exploring the sonic
extremes of their respective instruments, pushing them into radically
new territory. During the last few years, Ankersmit has performed and
recorded solo and with artists such as Takehisa Kosugi, Alvin Lucier,
Phill Niblock, Kevin Drumm, Jim O'Rourke, Taku Sugimoto, Jerome
Noetinger, Günter Müller and Gert-Jan Prins throughout Europe, North
America and Japan. Influenced more by experimental and electroacoustic
practices than (free) jazz, Ankersmit's sound ranges from post-minimal
explorations of barely audible phenomena occurring around the
instrument to Niblock/Conrad-inspired overtone density. His music is
characterized by intense and detailed sonic events, which often seem
more electronic than acoustic in their nature.
Ankersmit's installations have been shown in galleries and museums in
Berlin, Venice, New York, Chicago, Los Angeles, Tokyo and Osaka.
2004 will see the release of his debut solo CD for the A Bruit Secret
label and a split LP with Jim O'Rourke, among other releases.
"The effect is intense (very) and fascinating, resolutely harsh but not
off-putting, creating a virtual hive of activity, overtones swirling
between one's ears like a horde of angered wasps. The music is unique,
unyielding to the point of obsessiveness and, for the adventurous
listener, very rewarding. Along with only a handful of other reed
players, Ankersmit is treading in entirely new ground. Highly
recommended." Brian Olewnick, All-Music Guide (about Thomas Ankersmit
"Alto Saxophone" mini CD)
Giuseppe Ielasi
Giuseppe Ielasi was born in 1974, and has lived in the countryside near
Milan since 1990. He started playing guitar in 1988, and worked for
many years in the area of improvised music. He has performed live with
Taku Sugimoto, Jerome Noetinger, Nmperign and many others. In recent
years his main interest has been in live sound production and diffusion
in relationship to space (solo work and duo with Domenico Sciajno). In
1998 Ielasi founded the "Fringes recordings" label.
"File under: uneasy listening. The debut CD by this duo sounds like a
series of field recordings from the human nervous system. Ielasi and
Sciajno are central figures in Italy's under-recognized improvised
music scene, playing in various ensembles, organizing festivals, and
running labels. Over the years, Ielasi and Sciajno have been augmenting
their chosen instruments (prepared guitar and bass, respectively) with
electronics. This recording is the first to document their work solely
in the digital realm. Listeners familiar with electroacoustic music
will be reminded of both Japanese Onkyo (Sachiko M, Toshimaru
Nakamura, etc.) and various 'lowercase' sound artists (Lopez, Vainio,
Deupree, etc.). The sounds on this album are reminiscent of scientific
recordings of the magnetosphere, ion storms, and atomic reactions.
Magnified static, whispered sine-tones, cellophane wrinkles, and
flickering pulses are introduced and removed in a seamless, ghostly
mix. These layers create a discrete architecture, not unlike that
pictured in Friederike Paetzold's cover art. Because the recording
requires focused attention, it heightens the listener's awareness of
his/her surroundings. You hear the hiss of steam pipes, the digital
purr of cell phones, and click of power transformers as part of some
larger composition. This is one of the most challenging records on a
label with a well-deserved reputation for pushing the envelope of its
listener's expectations." Dan Hirsch, Other Music (about Giuseppe
Ielasi/Domenico Sciajno "Right After" CD on Erstwhile Records)