Guestar + Marcello Busato Solo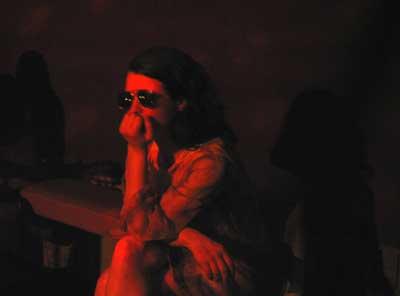 dehnungen7: The Return of Guestar
Margareth Kammerer: git/voc
Leonid Soybelman: git/keyb
Joe Williamson: bass
Nicholas Bussmann: cello, laptop
Andrea Ermke: sampler
support act:
Marcello Busato Solo: guitar
with Djane Panda before and after the concert!
M. Kammerer
Guestar is back!
Guestar machen experimentelle Popsongs, die sich durch minimalistische Komponenten, teilweise absurde Texte und Improvisation auszeichnen.
Vor 4 Jahren widmete man sich noch dem "Prinzip des Leisen".
Jetzt ist die Musik lauter und elektronischer.
Nach dem letzten Konzert von "Guestar" (April 2000 "leise im ausland") kehrt die Band an den Ort des Geschehens zurück - mit den selben Bandmitgliedern, die wir auch alle aus anderen Kontexten kennen:
Nicholas Bussmann ("Ich Schwitze Nie" mit Lars Rudolph und Hanno Leichtmann) hat gerade mit Martin Brandlmayr die
erste Platte ihres Duos "Kapital Band 1"herausgegeben (mosz-records).
Joe Williamson ("Trapist" mit Martin Brandlmayr und Martin Siewert für Thrill Jockey, Solo-CD für GROB)
und Leonid Soybelman spielten in "Kletka Red" (Tzadik)
Margareth Kammerer veröffentlichte vor kurzem ihre erste Solo-CD ("to be an animal of real flesh", Charhizma).
Andrea Ermke erschien auch bei Charhizma auf dem Sampler "labor sonor".
NIcholas Bussmann: www.studiobeige.de
Margareth Kammerer: www.charhizma.com