Piotrowicz/Stangl/ Zaradny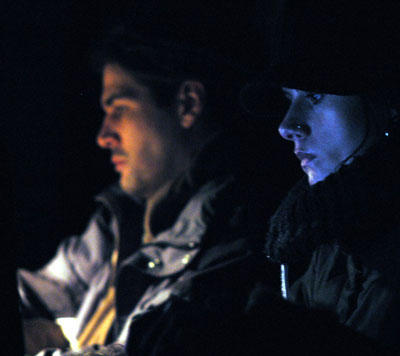 biegungen 26:
Robert Piotrowicz – guitar, synthetizer, devices
Burkhard Stangl – guitar, electronics
Anna Zaradny – alto sax, computer
These musicians have a new release on musica genera
CD - Piotrowicz / Stangl / Zaradny:
"Can't Illumination"
listen to: Time Clue.mp3
Grzegorz Tyszkiewicz writes about it:
Surprisingly enough, 'Can't Illumination' is the first record by Anna Zaradny and Robert Piotrowicz,
two young Szczecin-based improv musicians. It is strange, as their music seems to be accompanying us for many years. It is hard to forget Anna's great performances with Werner Dafeldecker and Cor Fuhler which we witnessed during last year's Musica Genera festival, or fire-belching industrial- strength set of Robert playing with Jerome Noetinger and Gert-Jan Prins, or his equally succesful tour with Kevin
Drumm. Anyway, the list of musicians that duo collaborated with is quite impressive and comprises of a whole list of European improvisors, including John Butcher, Tony Buck, Martin Klapper or Joe Williamson. 'Can't Illumination' is a recording of two sessions that took place last year in Viennese Amman Studio, which highlighted the duo's efforts with a 'giant' of European improvised music, guitarist Burkhard Stangl (known, among others, for his work with supergroup Polwechsel). This material should come as a surprise even for those who closely watch Anna and Robert and their work. Music is far more quiet than what was usually heard during their sets. Careful planning and focus on details is apparent here. Despite unusual economy of sounds, Burkhard Stangl plays his parts with a degree of elegance and a sense of distance. He creates an interesting counter-
point to the wall of drones and analogue glitchery generated by Piotrowicz's synthesizer. Zaradny's playing is also puzzling, and adds decidedly 'modern improv' touch to the proceedings. However, musicians do not hold tight to the leading role of their instruments, using laptop, electronics and home-built devices. Despite these varying means, whole thing is a consistent and involving piece of work. Multiple sound sources, colours and emotions ensure listener's enjoyment! It is so refreshing to listen to a record that is not shortcircuited by any formal limitations, and a really ingenious one too. It is no place to utilize one working scheme, which unfortunately marks so many records containing so-called 'experimental music'. My personal recollections refer to the likes of Deep Listening Band or early Polwechsel. Thus, I strongly recommend this record as being one of the best released in Musica Genera imprint so far. Additional attraction is great, as always, cover design made by Andreas Guskos, but this seems to be the constant characteristics of all Musica Genera releases.

Robert Piotrowicz Anna Zaradny
Burkhard Stangl