Kim Cascone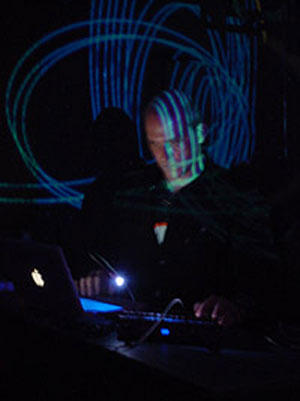 biegungen30:
Kim Cascone "Tropes & Sequences"
laptop glitch microsound experimental
+dj tim tetzner (dense/staubgold)

please find Kim's Tour Dates at:
http://www.anechoicmedia.com/
please note: workshop link for RandomSystemWorkshop participants only
"Tropes & Sequences"
"Tropes & Sequences" is a series of new pieces based on 'extensions' (in place of the concept of 'remix') of legacy electro-acoustic works by Xenakis, Oliveros, and others. "T&S" is an effort to build a connection to current praxis of electronic music performance via historical works by recasting them in a new form using new tools and ideas. A CD containing these pieces is currently under development for SubRosa in Belgium and is tentatively scheduled for a possible 2004 release.
Kim Cascone has a long history involving electronic music: he received his formal training in electronic music at the Berklee College of Music in the early 1970's, and in 1976 continued his studies with Dana McCurdy at the New School in New York City. In the 1980's, after moving to San Francisco and gaining experience as an audio technician, Cascone worked with David Lynch as Assistant Music Editor on both Twin Peaks and Wild at Heart. Cascone left the film industry in 1991 to concentrate on Silent Records, a label that he founded in 1986, transforming it into the U.S.'s premier electronic music label. At the height of Silent's success, he sold the company in early 1996 to pursue a career as a sound designer and went to work for Thomas Dolby's company Headspace as a sound designer and composer. After a two year stint at Headspace he worked for Staccato Systems as the Director of Content where he oversaw sound design using algorithmic synthesis for video games. Since 1984, Kim has released more than 30 albums of electronic music and has recorded/performed with Merzbow, Keith Rowe, Tony Conrad, Scanner, Ikue Mori, and Pauline Oliveros among others.
Cascone was one of the co-founders of the microsound list which focuses on issues concerning digital music and laptop performance (http://www.microsound.org) and has written for Computer Music Journal (MIT Press), Artbyte Magazine, Soundcultures and Parachute Journal.
* For a look at Cascone's talk and performance at the Tate Modern go to: http://www.tate.org.uk/modern/programmes/webcasting/deleuze.htm
* for a recent interview with Kim Cascone in Ctheory http://www.ctheory.net/text_file.asp?pick=322
* for a recent interview with Kim Cascone at the Cycling74 website: http://www.cycling74.com/community/cascone.html
2003 performances:
Transmediale (Berlin, Germany), Zagreb Biennale (Zagreb, Croatia), [sonic]square Festival (Brussels, Belgium), MikroMusicTheater (Athens, Greece), WIM (Zurich, Switzerland), Heeresbäckerei (Berlin, Germany), Rapid Ear Movement (Bremen, Germany), Hoerbar (Hamburg, Germany), )toon) Festival (Haarlem, Netherlands), Plaza Festival (San Sebastian, Spain), Babylon-Klangmaschine (Madrid, Spain), TEKS (Trondheim, Norway), Autunnale Festival (Bergen, Norway), Ctrl-Alt-Delete (Istanbul, Turkey), Sarajevo Media Center (Sarajevo, Bosnia), Ultrahang Festival (Budapest, Hungary), PPC (Graz, Austria), Experimentaclub 03 (Madrid, Spain), Radar Club (Madrid, Spain), LEM Festival (Barcelona, Spain), CYNETart03 Festival (Dresden, Germany), Bath Spa University College (Bath, UK), Resfest (Bristol, UK), Vancouver New Music Festival (Vancouver, Canada)...
+dj tim tetzner (dense/staubgold)
Tim Tetzner, seit 1995 in Berlin ansässig, ist Mitbetreiber des
Dense-Plattenladens, Mitarbeiter des Staubgold-Labels, eine Hälfte des Staubgold-Soundsystems und Veranstalter der Experimental-Musik-Reihen Übungen/Drogen.
Tim Tetzner