Murayama/Cordier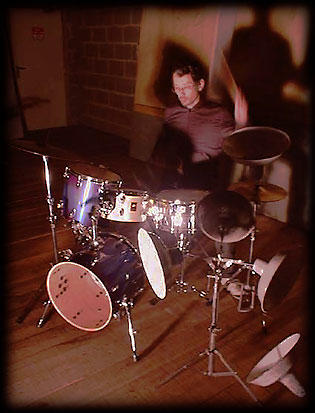 Seijiro MURAYAMA (ex Fushitsusha, die galaktische rockband mit keiji haino) drums & voice
und
Eric CORDIER (ex Schams) drehleier & electronics
spielen "strong improv/high energy far from minimal European improv" musik.
Das Bild zeigt Seijiro.
Percussionnist, drummer, SEIJIRO MURAYAMA
has worked with FRED FRITH, TOM CORA, KEIJI HAINO (FUSHITSUSHA),
KK.NULL since 1982. Now he lives in Paris, France and works with
several projects/bands such as:
- Trio Lo with Thierry Madiot, Pascal Battus
- Duos with Antez, Eric Cordier, Lionel Marchetti, Christophe Cardoen (Plastic Art), Michael Northam
- ANP (Absolut Null Punkt) with KK.NULL
Also he has collaborated with some French contemporary dance/theather/performance groups as a composer-musician.
Eric Cordier
has studied arts & music. He starts body-art performances under the
name Nadir with Jean-Luc Guionnet & Cécile Maupoux in the end of
eighties. Releases sound installations and plays hurdy gurdy with
electronic treatments in various improves, industrial and free-rock
projects, like Pheromone (with Jean-Luc Guionnet & Pascal Battus),
La Compagnie Pordurière (with Cédric Peyronnet/Toy Bizarre), Tore (with
Jean-Luc Guionnet), Enkidu. He has recorded for the labels Selektion
(with Synapses), Corpus Hermeticum (with Pheromone), Shambala (with
Schams).