Charles / Tetreault / Otomo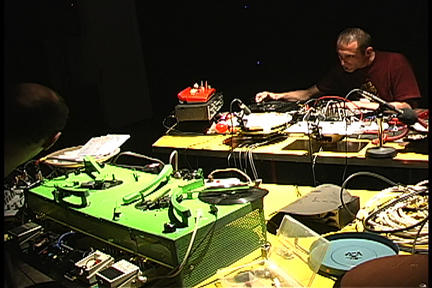 Xavier Charles (cl) / Martin Tetreault  (turntables)  / Otomo Yoshihide (turntables, el) spielen improvisierte Musik.
 Das Bild zeigt Martin und Xavier bei einem Auftritt in Montreal..
The work of clarinetist Xavier Charles ranges from noise to electro-acoustic via sound poetry. He has played in numerous new music fesivals in France and abroad. Charles collaborates with both Jacques Di Donato and Frederic Le Junter. In his work with groups and collectives, he has also collaborated with Martin Tetrault, The Ex, Peirre Berthet, Etage 34, Axel Dörner, Jérôme Jeanmart, John Butcher, Jean Pallandre, Marc Pichelin, Chris Cutler, Martine Altenburger, Camel Zékri, Emmanuelle Pellegrini, Michel Donédaand Frédéric Blondy. The artist has composed for the theatre, most notably with the Theatre François Lazaro
Martin Tétreault, an internationally-renowned Montreal DJ and improviser, originally came from the milieu of the visual arts. His path has been marked out by various productions on compact disc and live performances with a range of collaborators: Diane Labrosse, René Lussier, Jean Derome, Michel F. Côté, I8U, Otomo Yoshihide, Kevin Drumm, Xavier Charles, Ikue Mori, and many more. He has abandoned the musical citation that he had been using in his work since he began in 1985 and now explores the intrinsic qualities of the turntable: the sound of the motor, of interference, and so on. He also uses needles, prepared surfaces (with thanks to John Cage), and small electronic instruments.
Otomo Yoshihide, born in 1959 in Yokohama, is one of the most creative figures in Japan's current experimental scene. His projects always emerge as exciting new combinations of musical genres and styles in connection with live electronics. Otomo's sound has changed markedly since the end of "Ground Zero" in 1998. In his trio I.S.O. and the duo "Filament" with Sachiko M. he places more weight on simplicity, minimalism and texture rather than the extreme fragmenting and plundering of sounds ("plagiaristic sampling" which used to be typical of him. At the same time, since 1999 Otomo has been developing new possibilities for acoustic instruments and electronics with his New Jazz Quintet, which harks back to the jazz of the fifties to seventies (e. g. Ch. Mingus), using contemporary concepts of sound textures (onkyô). And in the project "Cathode" he attempts to fuse experimental electronic music with traditional Japanese music. Otomo's versatility can be seen in the fact that he has also composed soundtracks for films and television movies and for theatre musicians (the theatre ensemble "Rinkogun"), as well as publishing his ideas on many issues regarding music and the music business in journals and books