Zu (Italien)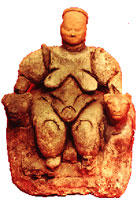 Massimo Pupillo (bass guitar)
Jacopo Battaglia (drums)
Luca T. Mai (alto/baritone sax)
Alberto Mattaroccia (live sound)

Critic and hydiosincratic music made of drums, bass, and saxophones . Some call it freejazz, no-wave, or hard-core. It's soul music.
+ dj inphase, + dj plattentektonik (Lars Behrends)

Zu sind vor allem auch bekannt durch ihre musikalischen Kollaborationen mit dem außergewöhnlich verrückten New Yorker Gitarristen Eugene Chadbourne und "one of the leaders of the Chicago musical avant-garde", Ken Vendermark. Sie tourten mit The Ex, Ruins und Dälek.
Ihr neues Album heißt "Radiale" (Atavistic Rec./ Chicago)
"Radiale", collaboration between Zu and Spaceways inc. its out on April 6th 2004 on Atavistic records: it'smade of 4 original tracks of Zu in quartet with Ken Vandermark on reeds, and 4 tracks of Zu and Spaceways double trio (or sextet if you prefer) , with Ken Vandermark, Hamid Drake and Nate Mc Bride, playing cosmic standards by Funkadelic, Sun Ra and Art Ensemble of Chicago! Radiale its beautifully enginereed by mr Bob Weston (of Shellac fame) at Semaphore , Chicago.

History:
Springing out of nowhere ( e.c. the catholic block of Rome, Italy) in 1999, having spent 2 years closed in a basement ( hence the name Zu, closed in german), Zu finally released a first album, Bromio ( the classical god Dyonisus, in its persona of god of noise). After that followed a further work with the american avant-guitarist Eugene Chadbourne, and, again with EC, the album Motorhellington where you can hear Zu shredding their love for Jobim, Mingus, Motorhead and Kraftwerk. Zu went on to Chicago's Electrical Audio to record with Steve Albini the album Igneo ( Igneo means in latin a loud rite of fire. ) Essentially a live band, Zu then decided to release a Live in Hellsinki CD, from a gig of the 2002 nine weeks european tour.