Lokai + Monotekktoni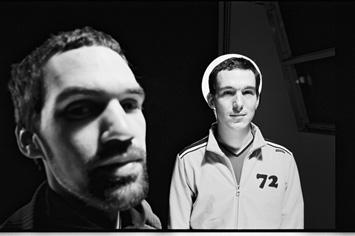 Lokai
Florian Kmet (guitar), Stefan Németh (electronics)

"Das Klangspektrum der E-Gitarre mit den Möglichkeiten der Elektronik auf klanglicher undstruktureller Ebene zu vereinen und neu zu kombinieren war ein wesentlicher Antrieb das Projekt Lokai zu starten. Das Ergebnis sind pulsierende, kraftvolle Stücke, mit inneren Songformaten, welche im nächsten Moment auch aufgelöst werden können. Die Dynamik reicht dabei von berstender Dichte bis zu fein verästelten Konstrukten aus Rest-Melodie und Geräusch..................5 times, urban 00, yes."

http://www.radian.at/releated/releated_content.html#rel04
"Lokai horses are characterized by good action and extreme hardiness. They have great endurance under saddle and pack and in national games, particularly in kok-par. They reach maturity late, but respond well to improved feeding and management..."
Monotekktoni
heavy listening no lapdog elektronic voice core
"Diese Frau will keine Atmosphäre, in der wir uns sabbernd und lobhudelnd die Welt beschönigen" (Ladyfest Hamburg)

Monotekktoni ist zugleich der Architekt und der rülpsende Bauarbeiter, der tänzelnde Feingeist und der Elefant im Porzellanladen. Der fiese Drachen ebenso wie die schöne Prinzessin. .. Und dann plötzlich reicht einem diese überwältigende Stimme die Hand, zieht einen an sich und fährt einen nach Hause. Und auch wenn nicht immer ganz klar ist, worum es jetzt eigentlich geht, oder wohin, sie soll nicht aufhören, sie soll bitte nicht zu erzählen aufhören. .. Und nicht zuletzt der schräge Hu-mor dieses seltsamen Albums. Tonia Reeh verlangt nicht wenig, doch nichts, das sie nicht doppelt zurück geben würde: Leidenschaft, Aufmerksamkeit, Hingabe — die richtige Platte zur richtigen Zeit.