j - bunny records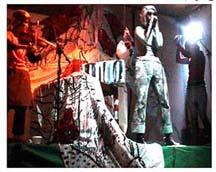 'radiostar raw-cut'
video, 2003, 30 min.
the official video documentary of the Berlin duo mega Holiday and
Oliver Lehmann, who from July 1999 to April 2001 embarked on a series
of public actions as 'popstar research'. See them play in abandoned
supermarket, for senior citizens in a hotel conference room, in the
Juedische Gemeindehaus,
in the now defunct 'dirt' club, u.a.
Kitsume
performance
Kitsume is Berlin-based performance duo Anke Kalk and Suska Goeldner.
Freely blending associations of medieval folklore and mass media, the
two create their own band-like mythos through sound, costume, and stage
design.
Butterknife Krüsh
concert
j-bunnyrecord's anti-girl band girl band takes to the stage with their
new album 'Skenographia de Grande Cave'. The band members, based each
in LA, NY and Berlin, integrate a location-less base into their
anarchic mix of
electronic, rock, rap and polka.
DJ Alex Bechberger