lucky kitchen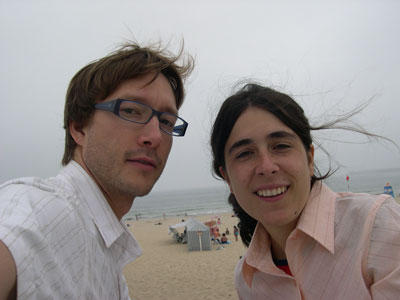 biegungen44:
Wir freuen uns, im Rahmen der Mobilen Akademie Berlin 2004, auf einen Abend mit:
Lucky Kitchen (Barcelona)
Aeron Bergman + Alejandra Salinas

Alejandra and Aeron are currently involved as artists in residence at the Mobile Academy (Hebbel am Ufer theater) with the theme of Fakelore. With this in consideration, during their evening at Ausland the pair will present some recent audio work focusing on their folklore documentation and discuss their working methods.
Alejandra Salinas (Spanish, resident Barcelona) and Aeron Bergman (American, resident Barcelona) have been working on sound for 10 years. They have been working in between the lines of documentation, storytelling, traditional and urban folklore, electronic music and music composition.
They have released over 15 solo full length recordings on labels such as Tomlab, Fatcat, Bottrop Boy, Orthlorng Musork, Softl Music, and their own Lucky Kitchen imprint. They have presented concerts and sound presentations around the world including places such as Museum of Modern Art in Luxembourg, Palais de Tokyo in Paris, de Appel Institute of
Contemporary Art in Amsterdam, the Lampo foundation in Chicago and Ex Teresa Museum of Contemporary Art in Mexico City.
Recently, the duo have been focusing on sound installation using ideas such as folklore and local decorative arts to make sculptural, designed environments. Their installation work has been shown recently at the ICC in Tokyo, Centre D'art Contemporain in Geneva, Basis vor Aktuel Kunst in
Utrecht, Serralves Museum in Porto, and the OK Center for Contemporary Art in Linz.

Homepage Lucky Kitchen
Homepage Mobile Akademie
Bergman und Salinas kommen aus der bildenden Kunst und arbeiten seit 1996 unter dem found-sound, video-game music, field recording, neo-folk Label Lucky Kitchen: "the most human electronic music label".
Ausgehend von einer einzigartigen Geräusch-Sammlung mit Aufnahmen von Familienmitgliedern und Freunden, aus Städten, Bars und Landschaften, setzen sie diese in hand- werklicher Feinarbeit zu wundersam bizarren Musik- und
Hörstücken elektronisch neu zusammen.