GRAILS + DJ Looping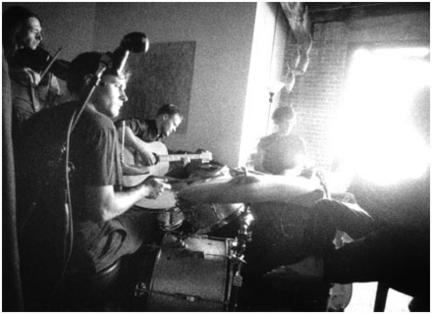 GRAILS is:
Emil Amos ~ drums
Timothy Horner ~ violin
Alex Hall ~ guitar
William Slater ~ piano, bass
Zak Riles ~ guitar.
GRAILS don't mince words. Awesomely communicative but entirely instrumental, this dynamic band's violin, guitars, piano, and drums collide with sober melodies and massive emotion. At alternate moments, Grails can sound vaguely classical, Eastern European, Irish, like the lost tapes of Pauline Oliveros, and, you know, rock. They're not really like anything else on the Neurot roster, but they've got something in common with all the Neurot bands: a commitment to intense music that forges new paths and, yeah, communicates in the most real way possible.
Grails have their fair share of ambient noise - shivery violins, a trickle of a high-hat, the amplified scrape of a guitar string - but their music is based on strong, narrative melodies that resonate in the heart. At times it sounds delicate, but they never cower; Grails ROAR, even when
they're being quiet. The Burden of Hope is the debut CD, following a pair of self-released, eponymous ep's in 2000 and 2002. The LP is the culmination of a year's worth of recordings, including a reinterpretation of Sun City Girls' classic "Space Prophet Dogon."
Grails are gathered in Portland, Oregon from Baltimore, Little Rock, Louisville, Chapel Hill, and
Reno. As an ensemble, their respective backgrounds in hardcore, classical, folk, and rock blend
seamlessly. Formed in late 2000 to execute live the bedroom recordings of guitarist Alex Hall, the
once-tentatively-assembled group found unexpected success with both audiences and local press.
Originally formed under the moniker Laurel Canyon, the name of the group was changed to Grails to
coincide with the release of The Burden of Hope in October, 2003.
www.neurotrecordings.com www.holysons.com
DJ Looping loopt vinyl-loops.
Manchmal rumpelt er, manchmal stampft er, manchmal stiehlt er der Königin ihr Kind.