fernwaerme #3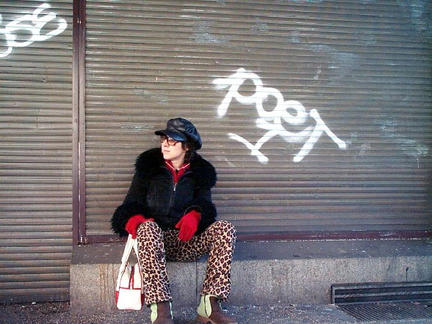 Embrace
yourselves from some female troublecoming to you at ausland !
Punch
me in the Cunt withPMS Syndrome (spokenword
& costumes performance)
A Burlesque
female duo that embraces spoken-words, performance, costumes and music all
intertwined. The poet struts her poignant words while the costumed performer
interprets them with outrages moves, eccentric and fetish outfits. Live guitar
accentuates the entire action.
Gaby Bila-Günther the performance poet sets the pace with poems
about sex, feminism, image, popular culture, racism and the urban decline of
her social environment. Described recently as the 'Edith Piaf of Poetry' and a
mixture between 'Johnny Rotten and Andy Warhol' her poems, are straight
forward, uplifting, no bullshit and humorous even when she describes the
insanity of the world around her.
Mariko Korikan -Pentagram owns her own costume shop, Kostüme
und Kaffee and therefore is able to contribute anything from masks and
g-strings, to wigs, to whips, Victorian and 70s fashions and other memorable
accessories in order to embellish the as the masked and costumed beast behind
Gaby's screams.
Together
they are wild on stage and determined to give the audience something to think
about. Yet they just want to have fun. Watch out for flying apples!
about. Yet
they just want to have fun. Watch out for flying apples!
Poet Gaby Bila-Günther, photo by Heiko Günther © 2003
Team Plastique (Australian Sushi Punk
Band)
Team Plastique- a quartet of posers posing as posers
taking plastique style and decadence ala Sigue Sigue Sputnik and Gary Numan to
put some much needed "je nais se pas" into the electronic scene. Team
Plastique is more than just a band, but a Team that likes to get up to all
kinds of stylish escapades like performing in shop windows(Peep Show), creating
interactive installations(Teenage Slumber Party and the world's largest
plastique bed), producing a Zine (Plastique) and organising dance parties (Club
Oops, This is Not Ibiza and Titanique Boat Cruise).
Currently the Team have undergone the move from
Brisbane Australia, and are currently based in Berlin, Germany
Town Bikes (Wacky
dance performance duo)
With years of experience
under their gussets, veteran show-ponies Carla Yamine and Gabi Barton stumbled
across each other during a Fringe Festival Show in 1999 and instantly an
exuberant rapport was formed. Impressed by each other's inherent style and
slapstick tendencies, the pair hastily set to work. Highly versatile and able
performers with a range of Television, Cabaret, Corporate and Live Theatre
appearances to their credit, The Town Bikes are an engaging, 'tongue planted
firmly in cheek' performance duo. Whether it be 'shakin' it" at any one of
Melbourne's established rock venues or peddling their 'high art' sensibilities
on the ABC Arts Show, they possess an inimitable ability to win over any
audience.
Replete with their swag
of costumes, curious props and vivacious characters, self-proclaimed
ambassadors of Mutant Cabaret, The Town Bikes go forth on their endless quest
for matching jumpsuits and cheap beer.