Amanda Rogers (NY,USA)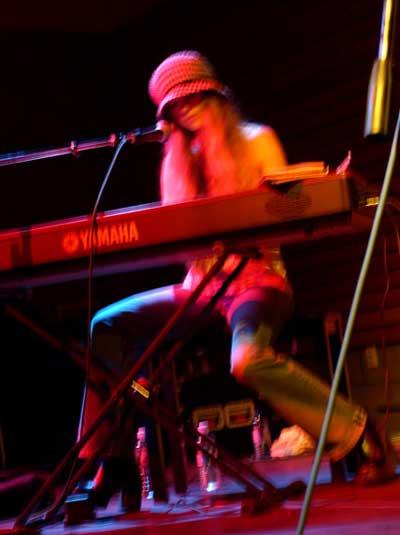 7*10split proudly presents:
A M A N D A R O G E R S
It takes something wonderful, if not miraculous, to transform a room of
conversation and doubt into a hush of attentive silence. It happened a
few years ago at a show in Syracuse, NY. Droves of young concert-goers
had waited in line to see New Found Glory, Saves The Day, and Piebald.
Opening this show was a young and breath-takingly beautiful girl with a
piano. The girl and piano weren't exactly identical fare to the guitar
riff, great hair, pop/punk bands that would take the stage afterwards.
By the end of her first song, however, a pin drop could be heard, until
deafening applause and over- whelming surprise flooded the showplace.
Over the past five years, upstate New York native Amanda Rogers has
opened up shows for some of the most acclaimed rock, emo, and jam bands
in the industry. Among her fans are Dashboard Confessional's Chris
Carrabba and Onelinedrawing singer/songwriter Jonah Matranga. Amanda
and Jonah have performed together on several occasions on both the East
and West Coasts, collaborating on crowd- thrilling renditions of The
Beatles "In My Life" as well as songs by The Sugarcubes, and Bob Dylan.
Amanda's first recording, a self-produced, 12 song CD is currently in
it's forth pressing. It was that record that gained her spots opening
for such acts as: Dashboard Confessional, Onelinedrawing, moe.,
Thursday, Brandtson, Sensefield, Element 101, and Canadian rockers
Moneen.
Any performance of Miss Rogers' burns with sincerity, and has moved
crowds to both tears and laughter. She gracefully gives life to each
song that she has written, and has been known to break out into covers
of "Creep" or "No Surprises" by Radiohead, and "Something Vague" by
Saddle Creek guitar virtuoso Bright Eyes.
After playing clubs and indie venues, and moving on to large scale
college festivals, Amanda Rogers went out to California to record her
newest offering with Grant Capes (30 seconds to Mars, Spark Lights The
Friction, Explosions in The Sky, Long Since Forgotten) in Hollywood.
2003 has a lot in store for this hard-working and impossibly talented
pianist and singer. She will engage in full touring and promotion, and
she was one of the first acts to be
booked at SUNY Albany's annual Parkfest. It will be her second year in
a row at Parkfest, a concert that draws thousands of people.
Regardless of if you encountered her live in concert, or caught one of
her songs in your CD player, Amanda Rogers may just restore your faith
in singer/songwriters.
alternative bio:
http://www.amandaspiano.com/bio.html
press photos:
http://www.immigrantsun.com/images/ar2.jpg
pictures:
http://www.amandaspiano.com/images/reddresslevitate.jpg
http://www.amandaspiano.com/images/amanda032.jpg