Olaf Rupp, Chris Iemolo, Chris Dahlgren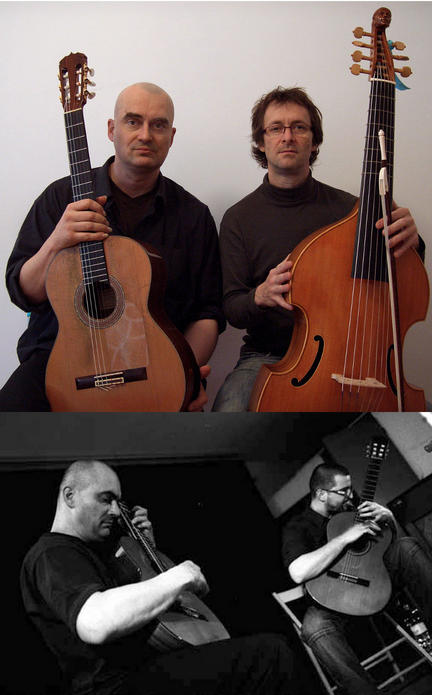 Chris Iemulo und Olaf Rupp haben sich in Bologna kennengelernt. Chris Iemulo ist mit Olaf Rupp einer der wenigen Improvisatoren auf der akustischen Gitarre, daher eine wunderbare Gelegenheit für ein Gitarrenduo.
Two musicians, two guitars. Twelve nylon ropes and four hands. Usually people associate a duet of classical guitars to baroque sounds or musical worlds that remembers a romantic Iberian taste. Nothing can be more distant from this than the duet Rupp-Iemulo.
Two guitarists who have been able to assimilate classical, contemporary and flamenco techniques blending all of them together, following the road assigned to the instrument by composers like Heitor Villalobos, Andreas Segovia, Leo Brower not forgetting the pioneer?s lesson of Derek Bailey and the radical vanguard. The music and the works of Luciano Berio, György Ligeti and Conlon Nancarrow.
Chris Dahlgren ist in Berlin vor allem als Bassist bekannt. Er spielt aber auch die Viola da Gamba, und ist somit auch ein faszinierender Duopartner für die akustische Gitarre.
Olaf Rupp -git
Chris Iemolo -git
Olaf Rupp -git
Chris Dahlgren -Viola da Gamba
Zwei Duos und vielleicht noch ein Trio...