Our politics are slow - The Practice of the Swan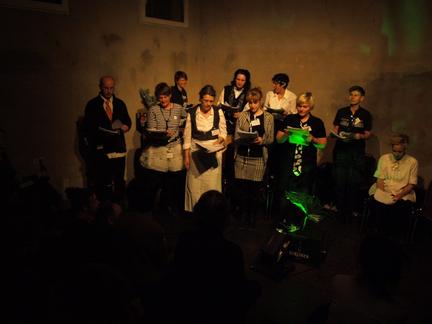 The Swan Song - an Operetta in 4 Acts, has been in continuous production by a group of creators and an ever growing crowd of lovely guest performers. Currently the Swan Song is working towards completing the Fourth Act, scheduled to be staged in May 2015.
The Swan Song is about two differnent groups of friends trying to defend their way of life and their feelings of animosity to each other in an ever-changing environment. The obstacles they need to overcome are as diverse as gentrification, marriage and protecting the environment.
After visiting our characters in their respective environments (the bar and the gallery) the Fourth Act is set in a public space in front of the courthouse. Awaiting the court verdicts that will spell out the future of both the bar and the gallery, our characters are debating their politics outside: Poppy and Tante prepare the demonstration for Renters Rigths, the Snail-March passes by, Florian convinces Tante to yuppiefy the bar, The Operetta where the Time stands still sets a dancemonument to Identity Politics.
We would like to dedicate this showing to debating and staging Politics. Whoever wants to participate in the preparation of this showing is heartily welcomed!
Doors: 20:00, Beginn: 20:30