out of verlorenort Tag 1 Eröffnung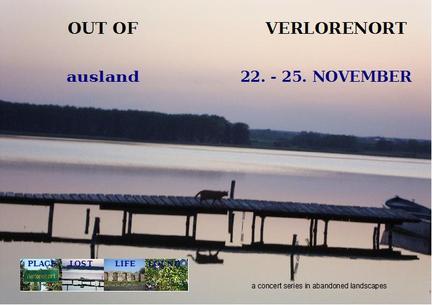 Out Of Verlorenort day 1
Ralf Hofmann (live) + Andrea Ermke (Audio Loop) + Surprise Show
Mit einer nur zur heutigen Eröffnung präsentierten ausführlichen persönlichen Einführung in die die Konzert-Reihe begleitenden Fotografien von Ralf Hofmann!
Der Fotograf wird auf seine unnachahmliche Weise ausführlich über die Entstehungsgeschichte der Bilder berichten, die er auf seinen Fahrten durch die bundesrepublikanischen Provinzen gemacht hat.
Es sind auch Überraschungen zu erwarten, die Einblicke in nicht veröffentlichte Fotos und Videos bieten, und nur dieses Mal zu sehen sind.
Sowie der Beginn des von Andrea Ermke im Auftrag nur für die Konzertreihe komponierten und produzierten Audio Loops, welcher dann zusammen mit den Fotografien von Ralf Hofmann, den audiovisuellen Rahmen der Konzertreihe bildet.
Und einem Improvisations Konzert mit an der Out Of Verlorenort Reihe beteiligten MusikerInnen, welches sein Pendant beim Abschlusskonzert am letzten Abend der Reihe finden wird.
English:
Opening Event of the Series Out Of Verlorenort, with a first showing and an one-time-only introduction into the Photographs by Ralf Hofmann.
And the Starting of the Soundtrack composed and produced by Andrea Ermke, creating the Audio-Visual Setting of the Concert Series.
plus a special improvised music concert with the participating musicians of the series, finding its counterpart in the last concert of the series on Sunday 25.
Über Out Of Verlorenort:
Vier Konzerte verortet im Nirgendwo im November 2012
Vier Konzerte widmen sich Fragen des 'Verlorenseins'. Sich gesellschaftlich wie persönlich 'verloren' zu fühlen, scheint in Zeiten der unaufhörlich vermeldeten 'Krise' immer mehr Menschen zu treffen. Welche Rolle kann Musik bei der Aufarbeitung und Bewältigung solcher 'Verlorenheiten' spielen, bzw. wie spiegeln sich solche Prozesse in der experimentellen aber auch in der populären Musik? Das Programm der von der Senatskanzlei für kulturelle Angelegenheiten geförderten Konzertreihe greift diese Fragen in unterschiedlicher Weise auf, und macht sich auf die Suche nach dem Weg 'Out Of Verlorenort'.
gefördert durch die
Senatskanzlei für kulturelle Angelegenheiten