Pär Thörn / Andrea Ermke + Arthur Rother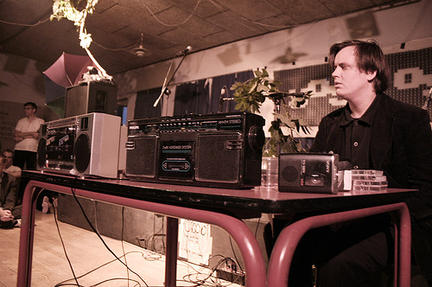 Live in concert...
...solo:
Pär Thörn
(tape recorders / sine waves / electronics / voice)
...duo:
Andrea Ermke (mini discs & mixing board) &
Arthur Rother (guitar)
Pär Thörn is originally a poet but has during the last years started working with improvised music and sound art. He want's to emphasize the mechanical and material aspects of the taperecorder and the unsecure element in the use of radio. His record Schöneberg/Stammheim/Gärdet/Rågsved got nominated as the best Swedish experimental music record during 2008. He has performed with among others Leif Elggren, Keith Rowe, Charles Bernstein, Lina Selander, Amit Sen and Martin Küchen. Based in Malmö before, Pär recently moved to Berlin.
Andrea Ermke is a sound artist from the so-called Berlin scene. Self-taught, she has been working with a sampler, mini disc players and a mixing board since about 1997. She has developed a very personal and uncompromising style of collage. Andrea has worked/collaborated among others with Jim Denley, Dorothea Schürch, John Butcher, Ignaz Schick, Annette Krebs, Margareth Kammerer, Leonid Soybelmann, Ami Yoshida... She was member of the groups Guestar, Cox Orange and Organic and currently performs with Tree (w Chris Abrahams & Burkhard Beins) and Sink.
Arthur Rother grew up in Holland and moved to Berlin in 1989. Together with Andrea Neumann, Christian Kesten and Fernanda Farah he curates events at labor sonor since 2003. Labor sonor is a lively meeting point for the Berlin underground music scene and is a platform for new developments in improvised and electronic music, with some references to new music, conceptual music, pop music and performance art.
Andrea Ermke and Arthur Rother also collaborate within the band Sink.