Pedesis + Ouroboros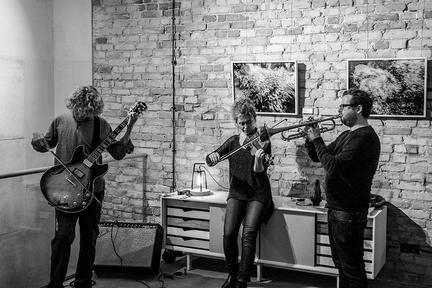 PEDESIS
Biliana Voutchkova – violin
Tom Arthurs – trumpet
Markus Pesonen – guitar
A micro-orchestral experience of infinitesimal variation and crystal-clear complexity, three internationally renowned performer-composers congregate in Berlin.
Spectral stretches and filigraine augmentations
Captivating, surprising, moving
Between states
Between mysteries
Ouroboros
Chris Heenan – contrabass clarinet
Adam Pultz Melbye – feedback system
Michael Vorfeld – percussion and self-designed string instruments

The idea for Ouroboros stems from a particularly engaging concert in a space in a small 13th century building in Hildesheim that Michael Vorfeld and Chris Heenan performed on percussion/string instrument and contrabass clarinet respectively. At the concert the resonances of the room activated their duo music with such clarity in a way that had not occurred previously, bringing extreme bass frequencies and particular mid-range and extremely high frequency undulating resonant sounds to the fore. The shape and space of the room and how and where they played in that space had a dramatic affect on the sound and was an additional partner in creating the music. Ouroboros uses Adam Pultz Melbye's audio feedback system to create the conditions where the live playing of Heenan and Vorfeld brings out the frequencies and harmonies of the room, to be eventually overtaken by them.
Kindly supported by Kulturverwaltung des Landes Berlin
Doors: 8.30 pm
Concert start: 9.00 pm