PERLONEX + Dean Roberts | PERLONEX 20 vol. 1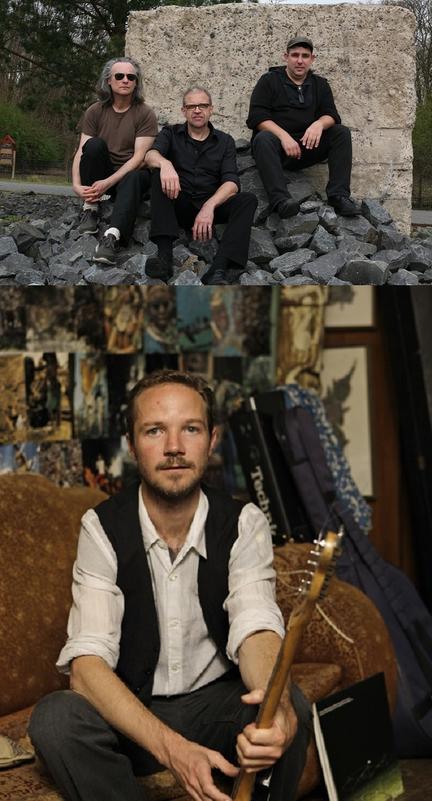 Perlonex 20 – zwanzig Jahre Perlonex | 20 years Perlonex stage anniversary
#1: Perlonex + Dean Roberts
performing solo - trio - quartet

PERLONEX
Ignaz Schick (turntables, sampler, live-electronics)
Jörg Maria Zeger (guitars, electronics)
Burkhard Beins (drums, percussion, objects)
soundcloud.com/perlonoid
zangimusic.wordpress.com/perlonex
+ DEAN ROBERTS (guitars, electronics)
kranky.net/artists/robertsd
Doors 20:30, concerts 21:00 | 9 EUR | @facebook
[de] 2019 wird das Berliner elektro-akustische Trio Perlonex 20 Jahre alt und ist damit eines der ältesten & langlebigsten kollektiv arbeitenden Ensembles der Berliner Echtzeitmusikszene. 1998 von Ignaz Schick initiiert spielten Perlonex 1999 damals noch unter dem Namen "Perlon" beim FAM-Festival im heute leider nicht mehr existierenden "NY" in Berlin ihr erstes als legendär geltendes Konzert. Das Verständnis und Zusammenspiel unter den drei extrem unterschiedlichen und wenn nicht gar gegensätzlichen Musikern und Charakteren war von Anfang äusserst speziell und magisch. So entwickelte sich Perlonex mit ihrem eigenwilligen musikalischen Stilmix, der zwischen zwischen Ambient, Noise, Industrial, Musique Concrète, Post-Industrial und Psychedelia oszilliert sehr schnell zu einem stilbildenden & einflussreichen Projekt der damals noch jungen Echtzeitszene. Perlonex setzte nicht nur musikalisch neue Impulse in die Berliner Szene hinein, sondern avancierte schnell zu einem international renommierten und anerkannten Bandprojekt, das immer wieder mit seiner sowohl fein ausdifferenzierten als auch wuchtig energetischen Musik zu überzeugen wusste. Perlonex gelten als Pioniere der Ende der 90er und Anfang 2000er neu aufkommenden, international zwischen Berlin, Chicago, London, Tokyo und Wien agierenden EAI-Szene (Electro-Acoustic Improvisation).
Es folgten internationale Tourneen weltweit, zahlreiche Veröffentlichungen und spannende Kollaborationen mit Ikonen wie Mike Cooper, Keenan Lawler, Charlemagne Palestine und Keith Rowe. Perlonex spielten bedeutende Festivals wie Märzmusik Berlin, FIMAV Victoriaville, Angelica Bologna, Liquid Architecture Australien oder Musique Action Nancy.
Anläßlich des 20-jährigen Jubiläums geben Perlonex von April bis August und im November 2019 monatlich jeweils ein Konzert in einem anderen ausgewählten Berliner Klub. Für jedes dieser Konzerte laden sie einen anderen Gastmusiker ein: Dean Roberts, Margareth Kammerer, Valerio Tricoli, Mike Cooper, Farahnaz Hatam, Toshi Nakamura und Ulrike Flaig. Alle sind Künstler mit denen Perlonex in der Vergangenheit bereits gearbeitet haben oder deren Musik sie besonders schätzen. Von der Struktur wird jeder Abend mit einem Soloset der Gastmusiker beginnen, darauf folgt ein Trioset von Perlonex um dann in einem finalen gemeinsamen Set den jeweiligen Abend in Symbiose oder Kontrast zu beschließen.
[en] Perlonex was formed in late 1998 and has since 1999 performed, recorded and toured extensively through numerous countries . Over the years, Perlonex have created a unique blend of different styles – settling somewhere in the no man's land between electro-acoustic improv, industrial noise, ambient, minimal and often even incorporate elements of psychedelic music. On their extensive tours they have performed in an extreme range of different settings; from academic contemporary music festivals via improv and electronica venues to rough underground and punk/noise clubs. They were frequently invited to prominent festivals all over Europe and have also performed in Australia, Canada, Malaysia, New Zealand, Russia & the US.
In Autumn 2004 Perlonex invited two guests, Keith Rowe & Charlemagne Palestine, to join the trio for each one set at the Berlin Podewil. The event was labeled perlonex.tensions and the entire concert was released as a 2CD on the Ukrainian imprint Nexsound. Especially the meeting with Charlemagne Palestine turned into a very special and magic event, both as a musical and personal exchange. So since then every once in a while Perlonex teams up with Palestine and he has become a frequent guest to the group. Meanwhile there were more than a dozen of Perlonex & Palestine events in cities like Geneve, Paris, Bouronne, Vienna, Graz, Bologna, Berlin, Krems, Metz, Victoriaville, … Thus the resulting music has become increasingly intense. Another live double CD "It Aint Necessarily So" which is documenting the Vienna concert has been released in 2009 on Zarek.
Even though Perlonex normally don't perform with guests they have made a few exceptions and besides Charlemagne Palestine also teamed up with R Keenan Lawler, Keith Rowe and with lapsteel guitarist Mike Cooper. In plus they collaborated with visual/video artists Ulrike Flaig (video feedback). After those fruitful collaborations Perlonex have recently focussed again on a series of "perlonex-only" concerts & recordings. They took a sabbatical in late 2012 to focus on the various projects of its individual members and restarted performing frequently in 2015.
Besides their 2017 release "Perlonoid" they are planing to publish more material (both archival and new) soon.
***
Ignaz Schick, *1972, is a Berlin-based turntablist, sound artist, performer, composer and visual artist. In his youth he studied the saxophone and performed in free jazz and avant rock bands. At the same time he was getting obsessed with multitrack tape machines, record players and effect boxes and he started experimenting with many different instruments and sound making devices. After college he briefly studied at the Academy of Fine Arts in Munich and worked for several years as an assistent for contemporary composer Josef Anton Riedl.
Since 1995 he lives & works in Berlin where he became an active and integral force of the so-called "Berlin Nouvelle Vague" and the blossoming "experimental" music scene. He has been also prolific as curator (Festival für Andere Musik, Erase & Reset, Time Shifts, TITO, Echtzeitmusiktage 2010, Circuit Training Festival, Flux Festival, ...) and runs the experimental music label Zarek.
Schick has toured worldwide solo or with groups like Perlonex, Phosphor, Berlin Sound Connective, Nighthawk Kitchen, Tree People, Splitter Orchestra, Ilog and many more (...). He has released music on several labels like Absinth, Boomslang Records, Charhizmha, Irrah, Le Petit Mignon, Mikroton, Nexsound, Non Visual Objects, Potlatch, Staalplaat and his own imprint Zarek and collaborated with more than a hundred international sonic artists - amongst others with such icons as Mwata Bowden, Don Cherry, Douglas Ewart, Sven-Ake Johansson, Paul Lovens, Toshi Nakamura, Charlemagne Palestine, Andrea Parkins, Keith Rowe, Akira Sakata, Matthias Spahlinger or Martin Tetreault. In parallel to his experimental music and performance practize he has been making sound installations, experimental objects, visual collages, text scores, concrete poetry, graphic scores and drawings.
Since 2012 he focusses on conceptual composition and experimental radio pieces. In parallel he has started several new projects with a younger generation of Berlin experimentalists (Ilog, Yemen Breakfast, Radio Nightmares, Hawking, Overdue, KUDU, …). He also frequently collaborates with Emilio Gordoa, Nicola Hein, Achim Kaufmann & Christian Lillinger and has founded the 10-piece workshop ensemble Circuit Training (w/ Tom Arthurs, Miako Klein, Benjamin Weidekamp, Eliad Wagner, Marta Zapparoli, Achim Kaufmann, Klaus Kürvers, Emilio Gordoa, Alexandre Babel) which focusses on the realization of conceptual graphic & verbally instructed scores.
Since 2017 he has received several travel, research & composition stipends (Paris, South-East-Asia, Los Angeles, Istanbul) for writing new pieces and researching the local scenes. In 2018 he has developed a new audiovisual solo program for turntables and live-video "FFK [Form Farbe Klang]" which is based on numerous manipulated and collaged vinyl works dating from 1988-2018. In 2019 he extended his research travels in Asia and giving concerts, lectures & workshops. Also in 2019 he will also premiere several new compositions and present a retrospective exhibition of his visual informed works at Schauraum K3 in Bavaria.
Jörg-Maria Zeger, * 1962, received his first guitar lessons at the age of twelve years and collected his early musical experiences in diverse punk and rock bands, followed by a great interest and experiences in free improvised music. Since 1986 he lives and works in Berlin, during his studies in "Comparing Sciences of Music" prolonged travels throughout South East Asia and there field research on the southeast asian music culture, especially the music of the tribes "Batak", "Minanga-bau" and "Nias" in Sumatra as well as collaboration with native musicians of that region.
Back in Berlin he was part of numerous projects of contemporary experimental music, theatre music and has been touring Europe, Russia, Belarus, Norway, Sweden, Denmark, Finland, Malaysia, New Zealand, Australia and the USA as a solist and a member of Pushkin Boom Beat, Daktari, Gelée Royale and Perlonex.
New Project are "Waschmaschine" with Oori Shalev, Werner Durand, Zam Johnson, Sebastian Hilken, Mila Morgenstern, "Begoo" with Michael Renkel and Tobias Vethake , "TSÜ" with Robert Curgenven.
Zeger has performed festivals as Rumor 19 Utrecht, Gaudeamus Festival (Amsterdam), Festival fuer Andere Musik (Berlin), Postfuhramt Berlin, Ceterum Censeo Berlin, "Die lange Nacht der Gitarre"/Podewil Berlin, Kryptonale III Berlin, Berlinale/Akademie der Künste Berlin, 2.Erlanger Hörkunstfestival, Skif Festival Berlin and St. Petersburg, Fruits de Mhere, Kill your Timidnotion (Scotland), Musique Action (Nancy), Z2000 , Springtime Minsk, Bauhaus (Dessau), Maerz Musik (Berlin), Angelica Festival (Bologna), Liquid Architecture Festival (Melbourne, Perth, Brisbane), Festival Musique Actuelle Victoriaville (Canada) and more.
He worked amongst others with: Sakari Luoma, Jim Meneses, Toshi Nakamura, Burkhard Beins, Oleg Matrosov, Ignaz Schick, Charlemagne Palestine, Honesty, Davide de Bernardi, Alex Nowitz, Boris Rayskin, Olaf Rupp, Souleymane Touré, Zam Johnson, Keith Rowe, Mike Cooper and others.
Burkhard Beins, *1964, lives in Berlin since 1995. As a composer/performer working in the fields of experimental music and sound art he is known for his definitive use of percussion in combination with selected sound objects. Furthermore, he works with live-electronics/analog synthesizers and has conceived several sound installations.
Since the late 1980's he is performing at internationally renowned venues and festivals throughout Europe, America, Australia and Asia as diverse as the LMC Festival (London), Int. Ferienkurse (Darmstadt), SKIF (St. Petersburg), Musiktage (Donaueschingen), Musique Action (Nancy), Choppa Festival (Singapore), Cave 12 (Geneva), HCMF (Huddersfield), The Now now (Sydney), ZKM (Karlsruhe), Kaleidophon (Ulrichsberg), Kid Ailack Music Hall (Tokyo), Gaudeamus Festival (Amsterdam), Liquid Architecture (Australia), Meteo (Mulhouse), Taktlos (CH), Berghain (Berlin), Konfrontationen (Nickelsdorf), Serralves (Porto), Wien Modern (Vienna), MoMA (New York), New Music Festival (Hanoi), Irtijal (Beirut), or Maerzmusik (Berlin).
Alongside his solo work he is a member of the ensembles Polwechsel, Activity Center, The Sealed Knot, Perlonex, Trio Sowari, Sawt Out, Tree, and Splitter Orchester and also works with composers/musicans such as Sven-Åke Johansson, Andrea Neumann, Keith Rowe, Axel Dörner, Chris Abrahams, John Tilbury, or Charlemagne Palestine.
Burkhard Beins gives workshops based on his graphic score system Adapt/Oppose. He is a co-editor of the book "Echtzeitmusik Berlin - Self-Defining a Scene" as well as the curator of a follow-up 3CD compilation featuring the Berlin Echtzeitmusik scene. Meanwhile he has released more than 50 CDs and LPs on labels like Zarek, Erstwhile, 2:13 Music, Hat Hut, Potlatch, Absinth, Herbal, alt.vinyl, God Records, Mikroton, or Confront.
Dean Roberts is one of New Zealand's leading practitioners in the field of contemporary music and has produced a number of albums to critical acclaim. His releases on Staubgold, Mille Plateaux and Kranky Records are regarded as touchstones of contemporary experimental music. Weaving elements of rock, electro-acoustic, minimalism and free improvisation into unusually affecting song cycles that sound equally avant-futuristic and hauntingly ancient, like ghost of songs past.He is an artist whose mercurial presence has manifested across the full spectrum of avant-praxis kicking off with his early NZ rock-informed improv/drone group Thela (Ecstatic Peace) and work under the White Winged Moth alias. He performed and recorded regularly as a member of Tower Recordings (with Matt Valentine Erica Elder, Tim Barnes, PG Six and others) during a lengthy stay in NYC. His later group Autistic Daughters (with Werner Dafeldecker, Martin Brandlmayr and Valerio Tricoli producing) are majestic examples of the possibility of detourned songform.
His album "The Black Moths Play the Grand Cinema" was described by the Wire Magazine as "A tremendous achievement where everything fits, less of an attempt to blend genres than a demonstration of how for the truly imaginative, genres remain utterly meaningless." He has worked extensively in the USA and Europe collaborating with many artists in Experimental music from Sonic Youth, Otomo Yoshaide, Jim O'Rourke, Phill Niblock, Tower Recordings, Mike Cooper, Martin Brandlmayr, Werner Dafeldecker, Eugene Chadbourne, Kevin Drumm, Fennesz, Tony Buck among others.
Featured recently in the Wire Magazine's "Seismic Performances" 30 Concerts that Shook the Planet, Jon Dale described his performance as "affecting a complete transformation of both songs and the performance space itself, ritualizing the interaction between guitar and voice and forcing himself through the barriers of his material with an intensity I had previously only witnessed on rare occasions. He pulled songs apart, losing himself in repetitions and sometimes effecting brute force on his guitar to wrench near-violent clusters of notes from the instrument. This was one of those rare occasions where you observe a performer lost in their world yet maintaining absolute control over their material and shaking down the audience, shocked and unable to speak, probably the best commentary possible on Dean Roberts' performance."
In this hushed environment his unusual juxtapositions of instrumentation, verse and sonic experiments reveal the art of the song as a far more suggestive, highly experimental medium that one could assume. Akin to popular or "folk" music were it given the treatments of an avant- garde composer.