PHEW - Kiezsalon im Exil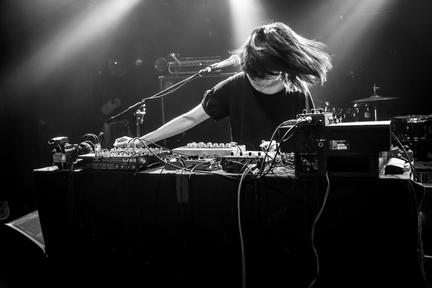 NEWS:
+++ Due to the high demand for tickets we decided to put on an additional PHEW-show, happening on the same night at ausland.
Those of you who signed-up to the waiting list (pre-sale tickets) early have by now received an email with instructions. Both shows are now officially SOLD OUT, there are also no further tickets available at the door.
The running order will be:
PHEW - First concert
Doors 20:00 CET | Starts 21:00 CET
PHEW - Second concert
Doors 22:30 CET | Starts 23:00 CET
Both shows will start sharp. Please be on time. We're looking forward to see you there
+++
Kind regards / Digital in Berlin + ausland
----------------------------------------------------------------------------------------
Digital in Berlin + ausland present
as Kiezsalon im Exil:
PHEW (Japan) live
- Berlin premiere concert -
"Light Sleep" (2017) at youtube.com
album review on pitchfork.com

Doors 20:00, concert 21:00 | @facebook
tickets: 10 EUR
at the door or via pre-sale @www.eventbrite.co.uk
Phew's career began in the 70s when she fronted Osaka punk group Aunt Sally (who released one album on Vanity Records in 1979). Ryuichi Sakamoto produced Phew's first solo release in 1980 and in 1981 Pass Records issued her debut LP, a classic featuring Holger Czukay and Jaki Liebezeit of Can, and Conny Plank. She's since collaborated with members of DAF, Neubauten, Boredoms and more.
Pitchfork calls her a "Japanese underground legend". The albums she created over the last 40 years have gone from record store rarities to being included on many "best of" lists. She worked solo with musicians such as Ryuichi Sakamoto, Holger Czukay, Jaki Liebezeit, Chrislo Haas, Alexander Hacke, Yuji Takahashi, Seiichi Yamamoto, Hiroyuki Nagashima, Otomo Yoshihide in the group Novo Tono, Dieter Moebius on Phew's Undark Radium Girls project, Jim O'Rourke and Ana da Silva.
***
Since early 2015 the Kiezsalon has offered a forum for innovative musical activity beyond genre boundaries. As an interface between avantgarde, advanced pop music and interdisciplinary art the series presents compact performances by artists from diverse genres, origin and status. Initiated by Digital in Berlin and based at one of the last authentic locations in Berlin, the 120 year old Schneider Brewery. Following four exciting years, the Kiezsalon has established itself as a popular and successful series, so far hosting 82 acts from 29 countries.
www.kiezsalon.de