Philipp Wachsmann
Submitted by
florian
on Tue, 2023-10-31 17:50.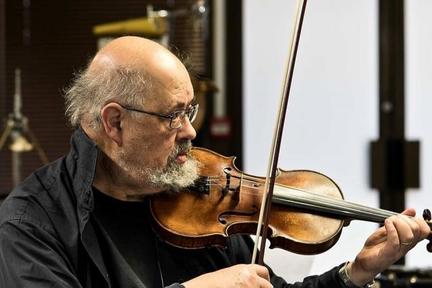 Philipp Wachsmann (geb. 1944 in Kampala) studierte Violine bei der internationalen Künstlerin Isolde Menges und Musik an der Durham University, erhielt Stipendien für ein Violin- und Kompositionsstudium an der Indiana University in Bloomington, USA, und für ein Kompositionsstudium bei Nadia Boulanger in Paris 1968/9, wo er auch Kurse für moderne Musik bei Henri Pousseur und Pierre Boulez in Basel besuchte. Anschließend lehrte er 1969/70 an der Durham University und zog dann nach London, um eine Karriere als Musiker zu beginnen.
Er leistete Pionierarbeit bei der Entwicklung neuer Klänge mit Hilfe von Violine und Elektronik und ist auf über 100 LPs/CDs bei verschiedenen Labels, darunter ECM, zu hören. Er tritt mit den meisten Musikern auf, die im Bereich der modernen Improvisation arbeiten. Zu seinen Ensembles und Aufnahmen gehören das London Jazz Composer's Orchestra, der verstorbene Derek Bailey, Evan Parker, Barry Guy und der belgische Pianist Fred van Hove. Zu seinen aktuellen Ensembles gehören das Stellari String Quartet und das Imaginary String Trio, Philipp Wachsmann arbeitet aber auch oft als Solist allein oder mit anderen Gruppen. Er dirigiert regelmäßig seine eigenen Stücke mit dem London Improvisation Orchestra. Zu seinen Auftritten gehören eine Tournee mit dem Videokünstler Kjell Bjorgeengen und dem Musiker Keith Rowe im Rahmen der Kill Your Timid Notion-Festival-Tournee, mit Ken Vandemark und Paul Lytton sowie mit der Künstlerin Sarah Eckel beim FMP-Festival in Berlin.
Philipp Wachsmann kollaboriert auch mit Film, Tanz und Architektur. Viele Jahre lang war er Leiter des Electronic Music Studio am Morley College und unterrichtet derzeit Kompositionskurse am City Literary Institute.
Die Musik Ugandas, die er seit seiner Kindheit hört, und die Gespräche mit seinem Vater Klaus Wachsmann im Laufe der Jahre haben ihn stark beeinflusst, ebenso wie das ethnomusikalische Denken, obwohl er als Performer und musizierender Musiker seine eigene musikalische Sprache entwickelt hat. Kürzlich hielt er einen nun veröffentlichten Vortrag über die "Veränderbarkeit musikalischer Erfahrung - Einflüsse auf mein Musizieren".
Seit 1972 gibt er an verschiedenen Orten regelmäßig Workshops in improvisierter Musik, die für viele der heutigen Interpreten ein Ausgangspunkt waren.
+++ english +++
Philipp Wachsmann (b Kampala 1944) studied violin with the international artist Isolde Menges, and music at Durham University, received scholarships to study violin and composition at Indiana University, Bloomington USA, and composition with Nadia Boulanger in Paris in 1968/9 where he also attended courses in modern music given by Henri Pousseur, and, by Pierre Boulez in Basel. He subsequently lectured at Durham University 1969/70 and then moved to London to start a performing career.
He pioneered new sounds using the violin and electronics and can be heard on over 100 LPs/CDs on different labels including ECM, and plays worldwide. He performs with most of the musicians working in modern improvisation related music. Ensembles and recordings include the London Jazz Composer's Orchestra, the late Derek Bailey, Evan Parker, Barry Guy, and the Belgian pianist Fred van Hove. Recent ensembles are the Stellari String Quartet, The Imaginary String Trio but he often works as a soloist alone or with other groups. He regularly conducts his own pieces with the London Improvisation Orchestra. Performances include a tour with the video artist Kjell Bjorgeengen and musician Keith Rowe in the Kill Your Timid Notion festival tour, with Ken Vandemark and Paul Lytton, and with the artist Sarah Eckel at the FMP Festival in Berlin.
He also works with film, dance and architecture. For many years he was Director of the Electronic Music Studio at Morley College and currently teaches courses in composition at the City Literary Institute.
He was much influenced by the music of Uganda heard since childhood and by discussions with his Father Klaus Wachsmann over the years, and by ethno-musicological thinking, though he has developed his own musical language as a performer and music making musician. Recently he delivered a now published paper on the "Changeability of Musical Experience – influences on my music making".
Starting in 1972 he has given regular workshops in improvised music at various places and which have been a starting place for many of today's performers.