Hijokaidan//Films-Oliver Pietsch//CambodianKnives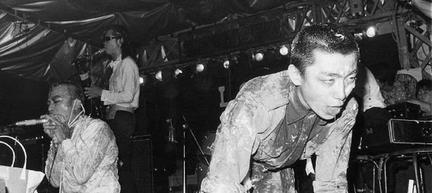 Hijokaidan (afternoon concert-for real!) - legendary japan noise - concert starts:15:00!!!!

The legendary band HIJOKAIDAN, founded in Kyoto in 1979 by Jojo Hiroshige and Naoki Zushi, is considered the mother of all noise bands. Their uncompromising Harsh Noise absolutely defines the style and has been a key influence on numerous generations of artists.
Hijokaidan started as a performance art project, whose anarchic shows often included extensive devastation of the venue, pelting the audience with garbage and food and public urination. Over the years, the focus of the band has shifted from a performative to a musical emphasis.
+ splicing the cinematic self: the allusive films of Oliver Pietsch
Pietsch's films are fantastic collages of found footage that plunder through film history and formulate meta-themes to then dissolve them again in the subsequent sequence.
Music often plays a central role in his films, but less as a soundtrack and rather as a further element of the picture, which repeatedly intervenes in the narration and sometimes even takes over.
+ DJ Cambodian Knives plays Love Trap x Sling Bass x Drama Twerk x Dirty Skew