PIP /// Axel Dörner + Andreas Røysum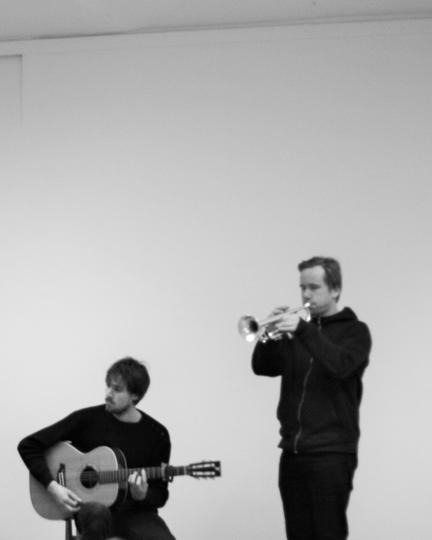 acoustic duo concert night:
PIP
Torstein Lavik Larsen - trumpet
Fredrik Rasten - guitar
pipband.com
soundcloud.com/piperetband
AXEL DÖRNER + ANDREAS RØYSUM
Axel Dörner - trumpet
Andreas Røysum - clarinet
youtube.com
Doors 20:00, concerts 20:30 | 8 EUR | @facebook
Pip is a duo playing improvised and semi-composed pieces of music, with Fredrik Rasten on guitar and Torstein Lavik Larsen on trumpet.
The music is focusing on such elements as small variations in tonal and timbral colour often utilizing just intonation, extended playing techniques and repeating musical patterns. Sometimes the music includes electronic elements, never abandoning the core sound of acoustic guitar and trumpet as a point of departure.
The duo has existed since 2006, and has since then explored many different approaches to improvised music. Pip released their first official release on Portuguese label Creative Sources in 2016, and their tours have included countries as Germany, Czech Republic, England and the Scandinavian countries.
Torstein and Fredrik also play together in the band Oker, with drummer Jan Martin Gismervik and bass player Adrian Fiskum Myhr, and in the quartet Volumes with Magda Mayas on prepared piano and Isak Hedtjärn playing clarinet and sax.
"...the simple quality of the compositions/improvisations and the control in the delivery are absolutely excellent. It's amazing what you can do with two acoustic instruments."
This is Jazz Today

Axel Dörner has been central in redefining the sound of the trumpet by extending it´s range of sound through expansive investigation of it´s potential. He has been collaborating with many of the prominent improvisers in Europe, and is known for projects like The Contest of Pleasures and Monk´s Casino, as well as long-lasting relationships with players like Sven Åke Johansson, Rudi Mahall and Alexander Schlippenbach are worth distinguishing.
Andreas Røysum is a young norwegian clarinetist, who in addition to touring with his bands Miman, Målbrott and Increase has spent the last years playing with people like Kresten Osgood, Jasper Stadhouders, Damo Suzuk, Rhys Chatham and Frode Gjerstad. Even though there´s a couple of generations between the two, they meet through a shared understanding of form and technique.